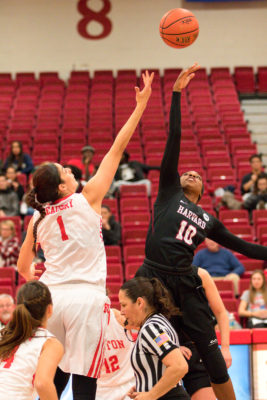 Beginning her fourth year at the helm, Boston University women's basketball head coach Katy Steding endured a 5-25 season her first season as the head coach, and then a 3-27 mark during the 2015-16 season. These dismal seasons have been part of the growing pains of turning around a program that was left in disarray after former head coach Kelly Greenberg left in late April of 2014 amidst accusations of verbally abusing her players.  
Steding has reworked what was a floundering program since coming to Boston. Now Steding looks to lead the Terriers further than last season's conference tournament quarterfinal loss.
"We've established the culture and we are in a new phase of women's basketball here," Steding said. "[We] are competitive in every game we play."
Senior center Sophie Beaudry emerged as the top player at her position in the conference as she was named to both the All-Patriot League First Team and the league's All-Defensive Team.
Beaudry averaged a team-high 12.9 points, 6.1 rebounds and a league-high 2.1 blocks per game. Steding said her presence will be heavily relied on once again this season.
"She's a huge part of what we do and that's not secret," Steding said. "The upside is that I feel like we have some really great pieces to put around her, there's not anybody that I look at on the roster and say 'well, this person is hugely better than that person' we have a lot of great players."
After starting off last season 1-9, Steding and the Terriers went on to finish the season winning 12 of their last 20 games. The Terriers were picked dead last in the preseason poll in 2016, yet found a way to make a dramatic improvement from the eight wins the team totaled in Steding's first two seasons.
Returning to the Terrier starting lineup along with Beaudry are forwards senior captain Corrine Williams and junior Naiyah Thompson.
Williams has the capabilities to handle the ball and stretch the floor, as well as muscle inside. She averaged 8.1 points and 4.6 rebounds per game last season and is the team's best returning three point shooter after connecting on 33 percent of attempts from beyond the arc.
Thompson emerged as the Terriers best on-ball defender last year. She started in 22 of 29 appearances averaging 6.0 points and 3.5 rebounds per game. With a developing offensive arsenal, Thompson has the potential to become one of the conference's premier two-way threats by season's end.
"Corrine can play positions two or five depending on the need and is such strong leader," Steding said. "They bring back a tenacity and are so long that depending on where you put them they mess things up [for the other team] because they take up so much space."
The Terriers have two more prominent forwards on the roster in senior Kara Sheftic and sophomore Nia Irving.
Sheftic averaged 5.4 points and 3.0 rebounds per game while appearing in all 30 games last season with 11 starts and a 13 point, 3 rebound effort against Boston College.
Also at 6 foot 1 inch tall, Irving is a post threat with sound back to the basket moves and a developing mid-range game. After missing the first 10 games due to injury, she bursted onto the scene with a 26 point, 10 rebound, 3 steals at Lehigh University in just her third collegiate game. Irving earned two Patriot League Rookie of the Week nods as well as a spot on the postseason Patriot League All-Rookie Team.
"With them two battling it out I can see scenarios where they play together and also spelling each other depending on what our circumstances we face," Steding said.
The Terriers must replace their now graduated starting guards in Sarah Hope and Courtney Latham, so Steding will have to see who on the team can step up.
"We see different people rise and fall in practice everyday, and I think we are starting to get a good handle on combinations that work well together," Steding said. "Practices are extremely competitive."
Juniors guards Lauren Spearman and Payton Hauck both played in majority of the games last season, and may see their roles increase.
"Both Payton and Lauren provide a steadiness and consistency and leadership by example type perspective," Steding said. "They do a great job everyday of setting the tone of how hard we're going to go."
Steding has her own team, her own, staff and her own plan to pave the way for the Terriers to capture the team's first Patriot League title.
"They're all mine," Steding said jokingly. "Everybody's truly super invested and the next step is contending."