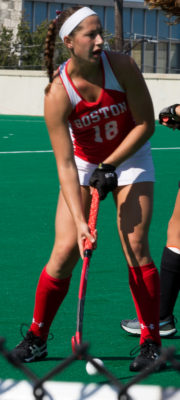 It has been a busy, yet exciting start to the month for No. 20 Boston University field hockey team as they earned the title of Patriot League champions, won the opening round of the NCAA tournament against Fairfield University and will take on the top seeded and undefeated University of Connecticut in the first round of the NCAA tournament on Saturday.
The Terriers victory against the Stags (9-12) on Wednesday also marked a milestone for head coach Sally Starr — it was her 450th career win at BU.
After four straight home games on New Balance Field, the Terriers (14-7, 6-0 Patriot League) will head to Storrs, Connecticut to take on the Huskies (19-0) at 11:30 a.m. on Saturday.
On Sept. 17, the Terriers suffered a 8-1 loss to UConn on the Huskies home field. UConn senior Charlotte Veitner accounted for four goals and three assists, making her a force to be reckoned with on 7 of their 8 scoring plays. Freshman Miya Denison scored the lone goal for the Terriers in the contest.
"We're a much better defensive team now then we were then," Starr said.
The Huskies became the champions of the Big East conference after 3-0 victories against both Providence College and Liberty University.
Facing the top seeded and undefeated team can be intimidating, but Starr said the program uses a lot of meditation and mindfulness to relax their team and put their focus on staying in the moment and playing the game.
"I think it's a lot easier when you're the underdog," Starr said. "There's really not a lot of pressure and I think that allows you to go out play, compete, and really have a front foot mentality, be really aggressive and force them into making some mistakes and hopefully we can capitalize."
Veitner leads the undefeated season for the Huskies with 28 goals and 11 assists. Senior Casey Umstead and freshman Margot Colenbrander have added 14 goals a piece, along with 16 and 9 assists respectively.
Junior Amanda Collins is third in points for the Huskies with 11 goals and 18 assists. UConn has become a strong offensive team with multiple players making scoring opportunities this season.
"We're going to try and continue to do things that work for us and focus on playing good solid team defense," Starr said. "I'd say that's our motto, to play really good team defense. It takes more than one person to stop a player like [Veitner] and we want to really try to attack them as well so that they have to worry about defense."
In the Terrier's 5-0 victory against Fairfield Wednesday, senior Allie Renzi and sophomore Kiley Gallagher each scored two goals while Denison scored one. Goalkeepers freshman Millie Baker and junior Kathleen Keegan split time in net to record their sixth shutout this season. The game was the last of the season that the Terriers will be playing on their home field.
"We've been fortunate to have been playing at home," Starr said. "Academic pressures have been pretty intense for our kids as well, and I think being home has really helped them to manage that a lot better than when we do a lot of travelling and miss a lot of class time, and I think we're ready to be at a hotel."
The winner of the BU and UConn matchup will play Sunday in the second round against the winner of the other first-round game between defending national champion, the University of Delaware and Pennsylvania State University.
Starr added that UConn and BU both have an equal amount of pressure heading into the game.
"It's zero to zero right now and I think there is as much pressure on UConn as it is on us," Starr said.