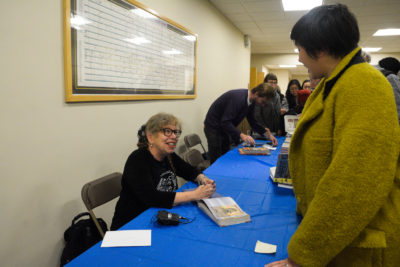 Renowned cartoonist and graphic novelist Lynda Barry delivered a presentation on creativity at the Jacob Sleeper Auditorium on Thursday evening, challenging her audience members to summon their innate artistic abilities.
The event, entitled "Creativity: What It Is," attracted around 200 people and was part of the Stanley P. Stone Distinguished Lecture Series, which brings speakers to the College of General Studies to discuss topics relating to natural sciences, humanities, rhetoric and social sciences.
Barry, an author and professor at the University of Wisconsin-Madison, discussed the natural artistic capabilities humans possess, and explained the biological function of "the arts." Barry asserted that humans are naturally able to work creatively with images, and argued that "the arts" are bound by a universal feature known as "an image," which have their own functions.
Barry also described the unconventional approach she uses to enhance her graduate students' artistic capabilities: pairing her students with four-year-olds so they learn to mimic the same fearlessness children apply to their drawings.
"[People] can draw with their eyes closed easier than they can draw with their eyes open," Barry said during the lecture.
Barry said she hopes attendees take away from her presentation "an urge to make something."
"I hope that they'll take away … another way of looking at drawing instead of this thing that has to be a beautiful picture, looking at it more like a ride that you go on that can sort of scare you and thrill you at the same time," Barry told The Daily Free Press after her presentation.
Davida Pines, the CGS chair of the rhetoric department who also teaches a theory of comics and compositional writing course at BU, said she has worked closely with Barry over the years. Pines, who initially suggested that CGS invite Barry, said she was particularly fascinated by Barry's definition of the word "critical."
"I was very interested in how Lynda was hearing that word 'critical' and how I was teaching that word," Pines said before the panel. "What Lynda was saying made a lot more sense to me, that when somebody develops such a strong internally critical voice, it becomes very, very hard to let yourself write anything. The more aware you are of how good something should be, the harder it seems it is to let yourself get it out on the page."
Pines also said she thinks one of Barry's best talents is encouraging her students to ignore their own inner criticisms.
"That to me is what Lynda is best at helping people get past, circumvent the critical voice that stops them from getting those initial words and ideas and images out onto a page," Pines said.
Several attendees said they were impressed with Barry's unique approach to discussing creativity, art and imagination.
Susan Coyne, 32, of Cambridge, said she had been a longtime fan of Barry's work, and that the artist's presentation exceeded her expectations.
"From her books, you get a sense that she's a really playful and imaginative person and I feel like she was just as interesting on stage as I could have gotten from her books, even more interesting," Coyne said.
Sheila Irvine, 69, of Cambridge and a School of Education '86 alumna, said she particularly enjoyed Barry's explanations of imagination and her method of assigning children to work with graduate students.
"Creativity is a really fascinating topic, it's a rich topic," Irvine said. "Namely, that as we mature from our moments as children we start closing our venues to be imaginative so it was interesting that she paired four-year-olds with graduate students and had them imitate four-year olds at work being creative."
Salena Von, a junior at Simmons College, said she appreciated Barry's approach to creativity.
"I just really like how she takes creativity and opens up your thoughts on life and how you should really be thinking about the present," Von said.