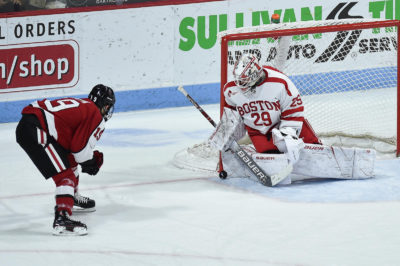 On Oct. 27, the No. 15 Boston University men's hockey team hosted the then-No. 1 University of Denver. After a tough 4-3 loss, the Terriers (4-5-1, 2-2-1 Hockey East) traveled to No. 8 Providence College and couldn't hold the momentum, coming home with a 0-3 loss.
Last weekend, BU came back against Providence (5-4, 2-3 Hockey East) with a 2-0 win. However, the next night, the Terriers were unable to respond against No. 13 Northeastern University.
BU's season has seen its ups and downs only 10 contests in, but it will look to reverse the trend as it plays Northeastern (5-2-1, 3-0 Hockey East) on Friday night and hosts the No. 9 University of New Hampshire Saturday.
The Terriers' head coach David Quinn said his team has just shown inconsistency.
"We have just been good one night, we don't look good the next and that's a challenge we face," Quinn said. "We've got to consistently do the things we're capable of doing if we're going be the team we're capable of being."
Last weekend, BU fell to the Huskies with freshman forward Bobby Hampton's tally and senior forward and captain Nolan Stevens' hat-trick pacing Northeastern.
Quinn said his team needs to do a better job offensively coming into this weekend.
"I think our defensemen when they get the puck on the offensive blue line need to be more active and create more opportunities," Quinn said. "I thought we were a little too stationary up on the blue line. We were just too easy to defend."
One of the Huskies' leading scorers, senior forward Dylan Sikura, didn't notch any points in the two team's first leg of the series and was supposed to play in the Karjala Cup for Team Canada. Although, he wasn't named to the official roster and it remains unclear if Sikura will appear in the Northeastern lineup this weekend.
Junior forward Adam Gaudette, who is right behind Sikura in points with 13, also didn't collect points over the weekend and will remain a threat to the Terriers' inconsistent defense.
Sophomore defenseman Dante Fabbro said overall the team must be quicker against the Huskies.
"When you look on film, we just weren't quick, we were kind of lackadaisical out there and that's why we worked on all that stuff this week in practice," Fabbro said. "From the looks of it, we've been moving our feet, and I thought we had a great week of practice and it will definitely show on the games this week."
During this matchup, BU will also be without senior forward Nikolas Olsson who has been suspended for one game due to an infraction for contact to the head, which happened 4:38 into the third period of Saturday's game.
The next day, the Terriers will take on UNH (6-1-1, 3-0-1 Hockey East). BU may have split its two contests with the Wildcats last season — a 4-4 draw at home and then a 8-4 win in Durham — but it can be deceiving as UNH sits second in Hockey East with three wins and a tie.
The Wildcats most recently shutout the University of Massachusetts 3-0 and accumulated a five-game win streak to start off the season. In that five-game span, UNH outscored their opponents 23-10.
The Terriers' sophomore goaltender Jake Oettinger, who made 59 saves over the past weekend, will remain as important as ever as the Wildcats' average 3.9 goals per game and are converting 27.8 percent of their power plays.
Senior forward Michael McNicholas and freshman defenseman Benton Maass lead the team with 10 points while freshman defenseman Max Gildon leads UNH in goals at six.
Senior goaltender Danny Tirone remains an important component of the Wildcats' defense and has also had a successful season, currently posting a 1.98 goals against average and a .936 goal save percentage.
"We've got to string together two good performances and let the winning and losing take care of itself, that's what I'm focusing on," Quinn said. "I know if we play well, we'll have a great chance to win and that's all we're focusing on tomorrow night."