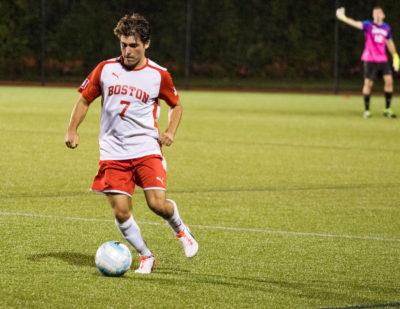 The Boston University's men's soccer team will play the College of the Holy Cross in this season's Patriot League tournament semifinals Friday night, where the Terriers (7-8-3, 6-2-1 Patriot League) will look to punch their tickets into the tournament final.
BU, who started the season with a rough 0-5 record, will have a chance to complete the season turnaround.
The Terriers recovered in the second half of the regular season and managed to salvage it by dominating Patriot League play, dropping only two games to Loyola University Maryland and Colgate University, as well as tying with Bucknell University. BU has gone from not winning any of their first five matches to being one win away from a chance at a Patriot League championship title.
Part of BU's domination against Patriot League opponents includes a 3-0 home victory against Holy Cross (7-8-3, 4-3-2 Patriot League) on Oct. 4. The teams will be playing for a second time this season in Baltimore, as No. 1 seed Loyola (11-5-1, 7-2 Patriot League) hosts the semifinals and finals.
BU head coach Neil Roberts said his team's preparation will not change going into this playoff game since the team has already beaten their opponent during the regular season.
"We've changed, they've changed," Roberts said. "They're especially scoring a lot more now. We need to keep focus on ourselves to be successful. I think it's best that we play our game."
Some of those who have stepped up for Holy Cross include senior forward Arno Rupp — who leads the Crusaders with eight goals and two assists. Rupp recently aided Holy Cross during its matchup against Lehigh University in the playoff quarterfinals and scored the first goal of the game.
Senior forward Nicholas Cestaro —the team's second leading-scorer, and senior defender Brad Ross went on to score in the 3-0 shutout.
The Terriers are headed into the Patriot League playoffs as the No. 2 seed, as they failed at the chance of getting the No. 1 seed after losing to Colgate (8-10-1, 4-4-1 Patriot League) last week 0-4.
While missing out on the benefit of hosting the Patriot League tournament as a No. 1 seed, BU enjoyed a full week off between games, which Roberts said is important.
"This time of the year everybody's banged up a bit, so a couple of days off are good," Roberts said. "I think we used them well. We're ready to go."
The Terriers have struggled to stay fully healthy so far this season. Senior midfielder David Amirani, freshman William Bonnelyche and junior back Ben Valek all missed time with injuries this season. They will look to take advantage of the extra few days of rest as a chance to reset and refocus.
While being so plagued with injuries, BU has had to look to specific players to step up to win them some games.
Sophomore goalkeeper Michael Bernardi put up six shutouts while freshman midfielder Toti Knutsson leads the team in points this season with three goals and five assists. Sophomore forward Matt McDonnell leads the team in goal-scoring with four goals on the season.
Going into the first playoff game, Roberts hopes whoever gets the opportunity to lead takes it.
"With our team, you don't know who's really going to step up," Roberts said. "A lot of the times in the playoffs, it's somebody unexpected. You just hope whoever gets the opportunity takes advantage of it."