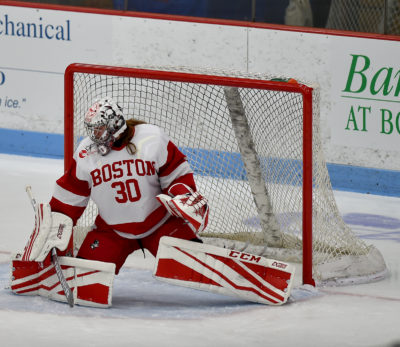 The Boston University women's ice hockey team is set to face the University of Connecticut for the second time this season at Walter Brown Arena. The Terriers (2-6-1, 1-5-1 Hockey East) earned their lone conference win against the Huskies (4-3-2, 0-2-1 Hockey East) on Oct. 22.
The 6-2 victory snapped a four-game losing streak for BU, giving the Terriers their first win of the season.
In the matchup, senior forward and captain Rebecca Leslie scored her second career hat-trick and picked up one assist for a four point night. In addition, senior forward Victoria Bach had three points of her own, with one shorthanded goal and two assists.
The game was tied at two early in the second period after UConn senior forward Leah Lum scored her fourth goal of the season. After Leslie scored her first of the afternoon just 1:41 later on the power play and BU didn't look back.
Leslie's second came just 36 seconds into the final period. Senior forward Nina Rodgers scored and Leslie notched a power-play goal to cap off a dominating third period with the Terriers outshooting the Huskies 15-4 in the final frame.
BU had their best performance on the power play to date, going three-for-five. The Terriers also did a good job on the penalty kill holding UConn at one-to-six on its chances.
BU head coach Brian Durocher said he certainly saw some things that bodes well for the Terriers' future.
"The girls have been doing a great job of getting pucks to the net," Durocher said. "We've also been crashing the net and creating a lot of rebounds that lead to good scoring chances for us."
BU is coming off a weekend split against the Rochester Institute of Technology. The Terriers were 5-1 victors on Friday before falling to the Tigers (4-5-1) 2-1 in overtime on Saturday.
Nine different Terriers registered a point in Friday's win — including junior defenseman Reagan Rust who transferred from RIT this season.
However, BU ran into some extremely hot goaltending the following night as sophomore Terra Lanteigne made 50 saves on BU's 51 shots.
The Terriers were undone in overtime courtesy of a penalty shot and RIT junior forward Mallory Rushton scored the game-winning goal.
While BU has gotten to at least overtime in two of its last three games, Durocher is still looking for the final piece that will allow the Terriers to begin to string some wins together.
"It has definitely been encouraging five games or so. I am little disappointed that we are letting two goal leads become 2-2 games," Durocher said. "I think we just need to improve in a few areas and fine tune some things and we will be able to string some wins together."
That loss was the first for freshman goaltender Corinne Schroeder, who had won her first two games. Schroeder is still giving up less than two goals a game and has a goal save percentage of .940.
Offensively, Bach and Leslie lead the way for BU. Leslie has a team-high six goals while Bach leads the squad with eight assists and 13 points on the season. In addition, Rust trails the pair, after collecting two goals and four assists.
"We have been getting a lot of scoring from Bach and Leslie," Durocher said. "And while I love the way those two have played, I would like to see some of other forwards get up in the play and create more scoring opportunities. The deeper down the lineup we can score, the harder it is for our opponents to defend us."