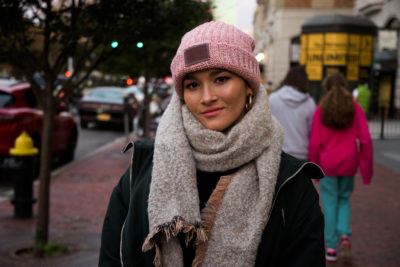 New York native Bianca Muniz was diagnosed with ovarian cancer when she was 11 years old and had been in remission for 10 years. Then, last year, the singer-songwriter was diagnosed with breast cancer at 22.
After undergoing a double mastectomy and three-and-a-half months of chemotherapy, Muniz is still battling her cancer with more treatments to come, but it does not seem to be slowing her down.
Using music as a driving force and a pillar to lean on, Muniz recently embarked on her first international tour in Canada to promote the newly-released music video for her single "For You" off her upcoming album, also titled "For You," to be debuted in June of 2018.
After she performed a handful of gigs in Montreal, she performed for Boston University's WTBU radio station in their new live studio on Thursday.
Muniz said in an interview with The Daily Free Press that the type of music she creates does not fit within a stereotypical genre, so she has resorted to making up her own genre to best describe it.
"It originally started off as avant-garde, but that didn't fully fit," Muniz said.
She noted that for her last EP, iTunes labeled the album as jazz, but that the labeling didn't quite align with the release. Her newest single, "For You," also didn't fit with iTunes' labeling, according to Muniz — this time, it was labeled under as pop.
"Somewhere along the way it evolved into avant-pop, which I feel really is the most fitting for the band and the music we play," Muniz said.
She said she is inspired to write by everything that happens in her life.
"For You" was specifically inspired by and written for a friend who passed away, she said — Muniz used to sing the song to her friend to comfort him while he was sick, so it only seemed appropriate to dedicate her next album to him.
Muniz said that every song off the upcoming album is written for a specific person or for herself. The upcoming album is the culmination of a few years of writing and recording.
She said she writes all her own lyrics and chords and then collaborates with her band to put it all together. Muniz said she has been singing her entire life, but she started a band two years ago with classmates from The New School in New York, where she attended college.
"Music helps me on such a deep level so I want it to help other people and inspire other people," Muniz said.
However, Muniz connects with her fans through more than just her music. In February, Muniz started a personal blog where she writes about her thoughts, chemotherapy treatments and any other struggles she is facing at the time.
Muniz said she did not originally intend to start a blog, but one day after a chemo treatment, she said she was feeling down and felt inspired to write. She ended up posting the journal style entry on her website and has since kept up with the posts. The blog now has a solid following with a large array of readers, she said.
Muniz's relatable posts and songs have both served as inspiration and encouragement for people everywhere fighting their own battles, whatever they may be.
"I've had a lot of people reach out to me, especially through the blog because they feel like it's a safe place where they could talk to me, ask for advice on whatever they're going through," Muniz said. "It hasn't always been people with cancer — it's been just about any obstacles they've had in life."
Storytelling, raw emotions and skillful lyricism play a large part in the unique music Muniz writes and performs, according to Michael Hojnacki, Muniz's drummer and musical director.
"She is always looking for something that's not the norm, something different, something that really pieces what she has in her mind," Hojnacki said.
He added, "She doesn't like being compartmentalized and sounding like something that's been done, she has a specific idea in her head and approach to something that's new and still bubbling and coming together."