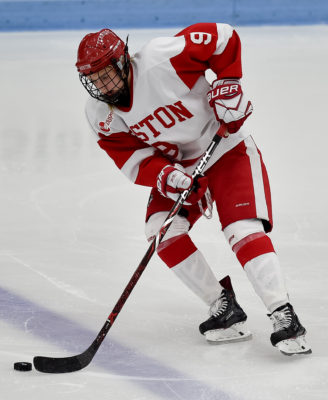 With injuries limiting the Boston University women's ice hockey team to three offensive lines Friday night, the Terriers (2-6-2, 1-5-2 Hockey East) kept up a strong game that left them with a 2-2 tie against their conference rival, the University of Connecticut.
BU looked to recapture the energy it found earlier in the season in its 6-2 victory against UConn (4-3-3, 0-3-2 Hockey East) who has yet to win a conference game.
The Terriers came out the gate strong, keeping up offensive chances through the first frame.
BU's efforts were rewarded when sophomore forward Natasza Tarnowski earned the Terriers' first goal of the game and her first goal of the season 19:34 into the first period, assisted by sophomore defenseman Abby Cook and freshman forward Jesse Compher.
Cook has had a strong offensive season including a four-game point streak before last Saturday's 2-1 loss against the Rochester Institute of Technology.
"[Cook] had a real neat play, a beautiful tight turn that a guy named Bobby Orr made look easy," said BU head coach Brian Durocher. "It shows you what she can do, and it turned into a really important assist."
The Huskies' defense slowed down BU's offense going into the second period and limited them to only six shots on goal.
It was midway through the second where UConn freshman forward Natalie Snodgrass managed to capitalize on one of the Huskies' limited shots, poking in an equalizer at 9:33.
Snodgrass currently leads UConn in scoring with seven goals.
Before the Terriers could respond, Huskies senior forward Justine Fredette found the back of the net on a power play to put BU down by one in the third.
"UConn got a little momentum when they got their goal, they played a little bit quicker," Durocher said on the second period's play. "We also hit a wall a little bit physically. [Freshman forwards] Lauren Klein and Rachel Allen played really well tonight, but they haven't been playing every third shift all year. They train and condition as much as anybody, but the adrenaline and bumps of a game, seeing extra ice, it can catch up with you."
However, the Terriers found the offensive power that had them leading NCAA Division-I schools in shots on goal per game with an average of 43.6 in the last five games.
With an average of 5.8 shots per game, senior forward Victoria Bach led Friday night's attack with nine attempts.
Sophomore defenseman Breanna Scarpaci was able to make her season debut after starting the season with an injury and contributed a shot to BU's 45 total during the contest.
This pressure on net gave senior forward and captain Rebecca Leslie a chance to put another point on the board in the final 50 seconds of regulation, tying the score and forcing the game to overtime.
Freshman goaltender Corinne Schroeder and UConn senior goaltender Annie Belanger remained perfect through overtime, facing four shots each in the extra five minutes, and left the score at 2-2.
Overall, Durocher said he believes the team is in the right mindset going into next weekend's series against the University of Vermont in Burlington.
"We outshot them by 20 shots and played well the whole game, it's a continuation of what we've been doing for the last six games, with a few exceptions," Durocher said. "We've had a pretty nice run of consistency since the last time we played [UConn.] That's what we're looking for."