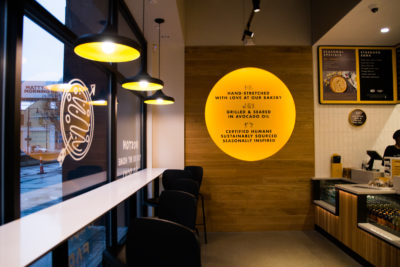 According to Oath Pizza, traditional-style pizza is an art. If it's going to be done, it has to be done right, and if it can't be done like it is in Naples, then it's time for a new concept.
That is why every pie from Oath Pizza begins in a bakery in New Hampshire, where the dough is formed into a crust, grilled and then seared in avocado oil before being sent to one of the company's eight store locations.
The newest restaurant, which opened last Thursday in Fenway, received a delivery of these crusts to begin making their personalized pizzas.
A line of customers trailed out the door and down the block, eager to sample Oath's pizza and partake in the opening day half-off pizza deal.
"We feel like it's a nice 'Welcome to the neighborhood,'" said Patrik Hellstrand, CEO of Oath Pizza. "We'll treat you to your food and hope you love it and come back and visit us again."
In addition to half-priced pizza, customers received free tote bags that said "Pizza is my therapy," live music by local musician Tōmn and toothpick samplers of cheese, pepperoni and tomato while waiting in line.
Hellstrand said the company had been looking at the Fenway area for a while in terms of a future restaurant location because of the proximity to Sweetgreen and CAVA.
"We are a unique food company in that we exist for people who love great food and want to feel good about their decisions, so we were looking for locales where there are other brands that believe what we believe," he said.
The health-conscious aspect of Oath's pizzas doesn't stop at the nontraditional avocado-seared thin crust. Oath is dedicated to using ingredients that are locally sourced, natural, seasonally inspired and free of chemicals, according to Tianna Tarquinio, marketing manager at Oath Pizza.
"If you're making a choice for pizza, you can at least come here and not feel guilty about it," she said.
Tarquino has worked with Oath since the opening of its first store in Nantucket in 2015, and organizes events such as those celebrating opening days for the company. She also planned an advertising campaign in which the company handed out free avocados outside the storefront with information about the opening.
Oath follows an assembly line process. The premade crust is passed down a line of toppings as workers pile on the patron's indicated ingredients. The pizza is then placed in a large toaster, and once the pie comes out on the other side of its conveyor belt, it's sliced and served either on a plate or in a takeout box.
Mary Dever, a sophomore at Simmons College, was one of the many patrons swayed by the advertised half-off pizza event. After waiting outside for 10 minutes, she said she ordered her discounted pineapple-covered Luau pizza, took a seat in the crowded restaurant and watched the employees behind the counter prepare her food.
The concept is similar to Blaze Pizza, Dever said, but the flavor was very different.
"This is probably one of the closer places to my college, and it's good pizza and a cool place," Dever said.
Hellstrand said Fenway's proximity to many universities influenced Oath's decision to open a new location in the area.
"We love being in environments where we have a lot of students because we've also found that a lot of students care about their food. They care about sourcing; they care about what they put into their bodies," Hellstrand said. "It's a perfect match for us in terms of being with an audience that understands what we do and cares."
Hellstrand explained that Oath's live music, cheery yellow wallpaper and décor are meant to welcome customers. Soon, he said, the restaurant will begin serving wine, which he thinks will only add to the relaxing atmosphere.
"We're trying to create an environment where it's not just fuel, but rather that you can share with your friends, your family, and just have a great experience and feel good about what you're putting in your body," he said.