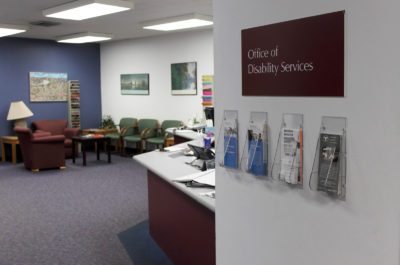 A recent report found that about two-thirds of students with disabilities who attend a four-year college do not graduate within eight years — a trend that Boston University has attempted to remedy through the implementation of programs that support students with disabilities.
The study, released by The Hechinger Report, a nonprofit news organization that researches inequality in education, found that the dismal graduation rates among students with disabilities are largely due to the lack of "soft skills" education in high school. Such skills include the ability to study, manage their time and advocate for themselves.
Dori Hutchinson, director of services for BU's Center for Psychiatric Rehabilitation, explained that BU provides avenues for students to learn these soft skills through a class called LEAD BU held at BU's Fitness and Recreation Center.
Hutchinson wrote in an email that this class teaches "time management, problem solving, academic study skills, wellness skills, [and] advocacy skills for students with any kind of mental health challenge."
BU has a peer mentoring academic program that pairs older students with first-year students with a mental health condition to help them navigate life at BU, she added.
Additionally, BU provides a wide range of individual accommodations for students with disabilities, Hutchinson said. The Center for Anxiety Related Disorders as well as the Office of Disability Services provides students access to many different programs to aid them in their transition into the university, she explained.
"I think having a multi-pronged array of services is key as not everyone with a disability needs all these services, so having choices and options is important," Hutchinson wrote. "We are fortunate at BU to have so many options."
In addition to providing soft skill programs, BU offers resources that are tailored to fit the needs of the individual student, Lorraine Wolf, director of the Office of Disability Services, said. These accommodations include moving classes that are not accessible to wheelchairs, access to sign language interpreters, extra time for exams and assistance with study habits and note taking.
These programs are not limited solely to the period of transition into the university, Wolf said. The Office of Disability Services follows these students throughout their academic and social careers at BU and encourages them to self-advocate in order to receive these accommodations.
"We work with students to teach them self-advocacy skills so that they know how to work with their professors to secure and use their accommodations," Wolf said. "And we're responsive to them across their lifespan here at BU. So as their programs change, as their needs change, we're flexible with the accommodations and what the student needs."
Accommodations cover more than just academic preparation. BU gives students access to mental health support from CARD and behavioral health services, which help students with anxiety, depression and other mental health struggles, Hutchinson wrote.
However, the statistics in the report — which stated that the vast majority of students with disabilities do not graduate with a degree — don't include students who haven't registered their disability with the university, Wolf said.
"Only about 17 percent or so of students that actually have disabilities actually use the Disability Services Office for their services," Wolf said, "So these numbers can be very misleading."
Several BU students said they think the university is doing a good job accommodating students with disabilities.
Ana Karenina Marcelo, a graduate student on the special education track in the School of Education, said she thinks it's important for BU to provide a program such as LEAD BU that teaches students soft skills.
"As a university, one of the things administrators and just people in this community should do is ensure that all students have access," Marcelo said. "If the study shows that those soft skills aren't being taught as they transition into colleges, then providing a specific program or program support for that is really good."
Marcelo explained that disabilities are very individualized and vary from person to person, which increases the need for programs that address specific challenges.
"If you only have a program that is whole wide, there is more opportunity to miss a person, or more often not be able to provide the support that they might need," she said. "Needs are very individualized, so it's good that BU, with these accommodations, can provide that."
Maha Elkabani, another SED graduate student, said she is particularly impressed with the way the Deaf studies department has utilized BU's resources.
"There is always a person doing sign language, and I think that they are very effective, and even when they address a question on behalf of the students, they do a question sign instead of just repeating what the student is saying," Elkabani said. "I always have an eye on them because I think they are doing a very good job with what BU is offering from what I see in class."
Kimberley Zak, a sophomore in the College of Fine Arts, said she thinks it's important that the university seeks out students who may need extra attention and services.
"It's important to enable people and not make it the responsibility of people who require extra support or specific services," Zak said, "A lot of people, if they need help and are not seeking it, it's most likely because things are stigmatized. So that kind of disparity in social and academic environments, the university has a lot of power to remove those barriers."