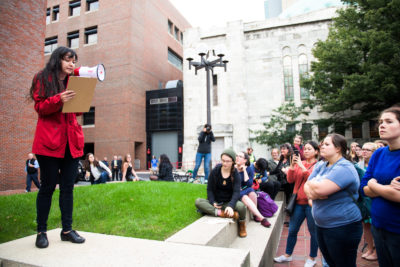 Despite modest progress achieved under the Obama administration, graduate student unions, including those at Boston University, are losing hope as they push for recognition and contracts.
Last year, a National Labor Relations Board decision stipulated that graduate student workers on private university campuses — including teaching and research assistants — are, in fact, employees per the National Labor Relations Act and can therefore unionize. This decision granted them collective bargaining rights.
But after the Trump administration appointed two conservatives to fill the vacant seats on the five-person NLRB, some student unions feared it would become increasingly difficult to gain recognition, according to The Atlantic.
Graduate student workers provide many services that help their universities carry out their academic initiatives, and many of these students also work to incite policy reforms, according to BU's Graduate Workers Union.
"We think about workplace issues broadly, from pay and benefits, to workload protections and grievance procedures, to family policies and professional development, to improvements around identity and social justice," the union wrote in an email. "We fight for both a better campus and community."
The union is currently trying to win recognition through either the BU administration or the NLRB. With official union certification, they could ultimately bargain a contract with BU.
Fourth-year doctoral student Sarabeth Buckley, a supporter of the union, said graduate students face many issues including summer funding, parental leave, medical care and sexual harassment — issues which a union contract with the university can help resolve.
"Right now, the university can potentially have entire control of our situation," Buckley said. "There are a lot of issues that a lot of people feel need to be addressed … in terms of just our environment and support that we get, in terms of our jobs and benefits that we really need to have in order to survive in Boston."
With union recognition, graduate students would have "a formalized process for addressing those grievances."
However, Buckley predicted that the Trump administration will reverse the NLRB decision that sanctioned student unionization.
"There has definitely been significant challenges that come from the Trump administration and worrying about establishing [the union] before the change occurs," she said. "There is definitely significant influence of the Trump administration on the reality of graduate students."
She said organizations like the Service Employees International Union, which works with student unions, dropped its partnership with BU unions due to the recent policy change and consolidated their efforts at Tufts and Brandeis, where results looked more promising.
"It was a direct hit that BU took, our efforts took, and kind of set us back a little, we had to restart collecting cards with the UAW," she said.
International relations professor William Keylor wrote in an email that he supports graduate student unions that advocate for fair compensation for students who serve as teaching fellows or assistants on campus.
"If there is a group of graduate student teaching assistants who are seeking to be recognized as a union, I believe that the university ought to engage in negotiations with them," Keylor wrote.
Several students said they think it's vital that graduate student workers' voices are heard.  
Hannah Kinney-Kobre, a sophomore in the College of Arts and Sciences, said she thinks it is necessary that graduate students who are also workers have reasonable wages and working conditions.
"Their job is to teach us as undergrads and then also to learn and to become the best scholars they can be and go on to represent BU," Kinney-Kobre said. "I would say that BU should support union efforts, although they pretty obviously won't because they should support their graduate students."
CAS junior Ryan Meehan said he opposes student unions but still believes it's important for students to voice their opinions.
"I think it is important to have their opinions heard and to make sure they are represented and not overworked for that kind of stuff," Meehan said, "but I don't necessarily think that they should be a full union or a full coalition against certain policies at BU."
Trung Pham, a junior in the College of Engineering, said he believes teaching fellows, who represent an unspoken voice, should be able to influence university policies.
"Teaching fellows and graduate teaching fellows should have a bigger say because they are the ones helping run their classes, so they see what helps with classes and what doesn't," Pham said.