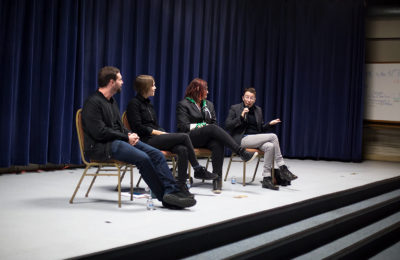 When it comes to music, there is no shortage of female artists. Names like Taylor Swift, Katy Perry and Beyoncé are giants of their respective genres. But what about those who are behind the name? The producers, sound engineers, bookers and agents who tirelessly work to put out that next trendy single or world-wide tour?
Last Wednesday at the George Sherman Union auditorium, Women in Music Boston and the BU Music Business Club hosted "The Art of Touring," a panel discussion with four music industry professionals from the Boston area.
Women in Music Boston is the newest chapter of the Women in Music organization, starting in 2015. Their goal is to strengthen community ties through music and to organize networking events and panels, according to their Facebook page.
The discussion focused on the role of women in the music industry as well as the challenges involved in touring and managing a music group, according to the Facebook event page. Following the discussion, members of the audience could network and talk to the panelists while enjoying a guest DJ set.
The panel included Melissa Ferrick, artist and professor at the Berklee College of Music; Nicky Rheaume, artist manager at Nettwerk Music Group; Lance Tobin, talent buyer for Brighton Music Hall, Crossroads Presents and Live Nation New England; and Anngelle Wood, tour marketer, music director and radio personality.
According to the Women's Audio mission, less than 5 percent of the behind the scenes sound engineers, media personnel and producers are women.
When asked about discrimination against women in the industry, Wood, who hosts a weekly show on WZLX 100.7, said, "I became strong enough in myself and confident in myself where I started to tell people: no. You are not going to treat me like that, you are not going to talk about me and get away with it."
Rheaume discussed her experiences as an artist manager who happens to be the only woman on her team.
"I had a couple run-ins with male club owners," she said. "That's mostly the thing that I've run into as a touring artist in bars. It's having to deal with people who are intoxicated, which is extremely triggering for me and scary."
Focusing not only on women, the panel also discussed issues such as merchandise, venues and tips for people who are interested or new to the music industry.
Tobin emphasized the importance of having merchandise while on tour during the panel, saying that a band without merchandise is only hurting themselves. He also discussed how bands should work their way up the ladder when it comes to playing larger venues.
The panelists also stressed the importance of professionalism in the industry, having an agent, manager, publicist and promoter. They also talked about the consequences of having a bad reputation within the music industry.  
"Our panelists all came from a background that has something to offer and I'm sure anyone could pick something up from each of them," said JoBeth Umali, Women in Music Boston committee member and freelance drummer.
In partnership with Women in Music Boston, the BU Music Business Club aimed to provide BU students, who are interested in the music industry, opportunities to network and gain experience in the industry. The group also educates students about the music business.
"There are people working to create more of a curriculum for it [music business], but it's not there yet; so we are trying to drive forward what is it about managing a band that is different than managing a company?" Josh Ford, president of BU Music Business Club, said.
He added, "Also, how can we create a community for those students at BU who are interested in music creatively, music on the business side and music in general?"  
Event attendee Farrah Jean, 26, of Hyde Park, explained that she came to the event to support women in the music industry and to apply knowledge from industry professionals to her own career.
"I want to take my skills on the road one day. I know it's [the event] pertains to music but I think it's overall everything in the media industry," said Jean. "They dropped so many great tips and advice today. One thing was definitely to be prepared, you never know when your next opportunity is coming up."