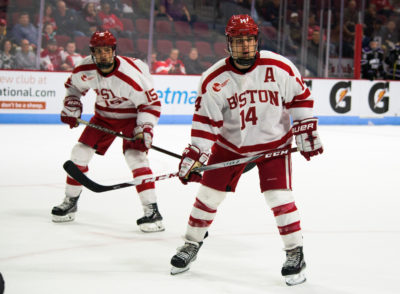 After playing at least one game at Agganis Arena each of the last five weekends, the Boston University men's hockey team will head to Maine for its first two-game road series of the year this weekend.
The Terriers (5-6-1, 3-3-1 Hockey East) will first make the trek up to Orono to face the University of Maine on their home campus Friday night before driving south to Portland for Saturday's matchup at Cross Insurance Arena.
After suffering a sweep by Northeastern University, in which they were outscored by a combined 10-2 in two games, BU got back on track in a 4-0 shutout of then-No. 9 University of New Hampshire on Saturday night.
"It was a much needed win," BU head coach David Quinn said. "Not only a win, it was nice to score some goals and we looked like a much more free-flowing team. I just sensed that we were tight over the [previous] few games. Against Northeastern, you lose 6-1 and you're just scratching your head."
Making his first collegiate start, redshirt sophomore goaltender Max Prawdzik stopped 29 of the Wildcats' shots (6-3-1, 3-2-1 Hockey East). The Terriers received goals from freshman forward Ty Amonte, sophomore defenseman Dante Fabbro and junior forwards Jordan Greenway and Bobo Carpenter to secure their most complete victory of the season.
"To bounce back in the fashion that we did and go to the net much more frequently was certainly a good sign," Quinn said.
With the win, the Terriers moved into a tie with UNH for third place in the Hockey East standings with seven points each. They sit one point behind Northeastern (6-3-1, 4-1 Hockey East) and five points behind Boston College, whom they will face in a home-and-home series during the first weekend of December.
Maine (3-5, 2-2 Hockey East), on the other hand, has managed four points in four Hockey East games so far, putting them in eighth place in conference standings. The Black Bears split a series against the University of Connecticut in October before splitting a series with the University of Massachusetts Lowell two weeks ago.
Their victory over Lowell (6-6, 3-5 Hockey East) came in the series finale by way of a 6-2 margin. The Black Bears scored the first six goals of the game, including two from freshman forward Eduards Tralmaks, who leads the team in goals with five. Tralmaks' two-goal outing against the River Hawks was the first multi-score game of his career.
It remains to be seen whether Prawdzik will see more action in net or if sophomore goaltender Jake Oettinger will play both games against the Black Bears.
"When a guy plays like that, he's going to get more of an opportunity," Quinn said. "You will definitely see more of [Prawdzik]."
The only guarantee is that Maine will be a handful for whichever goalie receives playing time. The Black Bears rank second in Hockey East with 3.25 goals per game in conference play.
The Terriers, by comparison, have netted just 2.29 goals per game. However, they can increase this average with a strong showing against a poor Maine defense. The Black Bears sit eighth in the conference in scoring defense, allowing 3.25 goals per outing.
Maine has also been very vulnerable on special teams with a 63.9 percent penalty kill and 16.2 power play conversion percent. Their special teams margin of -4 is the second worst in the conference.
One thing the Black Bears may have in their corner is the home ice advantage at the Alfond Arena.
"There's not a lot of room in this rink that we're playing in [Friday] night," Quinn said. "The one word that keeps jumping out at me is alert. If we're going to have success we have to be alert. More so with this rink because of the size of it."