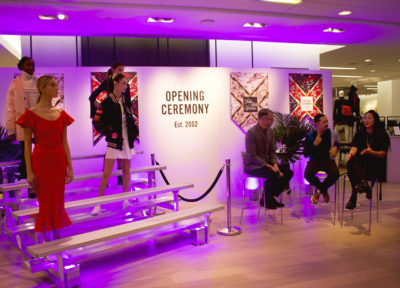 It was 10:30 p.m. on a Monday night, and Carol Lim was already in her pajamas, ready to tuck herself in for bed. Humberto Leon, a classmate of one of Lim's roommates, had just come back from class and convinced Lim to go out to party.
Like any college student who values sleep, Lim was hesitant, knowing that she had an 8:00 a.m. class the next day.
"Just put on heels and a jacket, you'll be fine," Leon told her. So she did — she threw on high heels, still in her pajamas, and walked out the door.
This was the night that co-founders of fashion brand and multi-brand retailer Opening Ceremony first met, as college students at University of California Berkeley over 20 years ago. Today, Lim and Leon have stores open in fashion-forward cities around the world — New York City, Los Angeles, Tokyo and London.
"Nine out of 10 times, it's him saying 'Let's go out, we can do this,'" Lim said about her friendship with Leon in the Q&A session of the "Meet the Designers of Opening Ceremony" event at Saks Fifth Avenue in Boston on Thursday.
Along with a station where attendees could purchase custom embroidered ready-to-wear apparel and an interactive installation that exhibits their selected pieces with neon light-signs, the event launched "Torch," which is an Opening Ceremony collection at the department store.
"Torch," the sporty-yet chic streetwear collection, features a melody of sleek varsity jackets, color-blocked scarves, ruffled dresses, flared pants and more quirky apparel. According to Leon, the collection was built upon the idea of almost creating a sorority.
"It's not the sorority like you know it, like in college, [but] it's a hyper-sorority of extraordinary, powerful women that have strong voices, opinions and putting them together to talk about what matters to them, especially in this world that we're living in today," Leon said during the event.
Inspired by the tradition of the Olympics in congregating cultures, the initial concept behind Opening Ceremony was to focus on a country every year to celebrate the best of that country through their fashion collections.
Back in 2002, the first country they featured when they started the brand was China — right after visiting their mutual friend in Hong Kong, who introduced them in the first place.
"So we quit our jobs, had $10,000 dollars each and said, 'Let's start this company, there's nothing to lose,'" Leon said in the discussion. They both had initially felt that their corporate jobs were a safety-net for them, because they could easily go back to them when things do not work out.
Things did work out, as they have they collaborated with long-established brands such as Dr. Martens, Levi's, Vans, Timberland and Columbia, but Lim and Leon became creative directors of Parisian high-end fashion brand Kenzo, in 2011.
"In Kenzo, [Lim] manages the design process and I do the designing," Leon said in an interview with The Daily Free Press. With Opening Ceremony, he does all the designing and Lim does the business — a split, yet effective, system of teamwork when it comes to design and business in fashion.
Kathryn Green, marketing director of Saks Fifth Avenue Boston, said in an interview that she is impressed by what Opening Ceremony does beyond design, through retail and collaborations.
"They're really pushing the industry forward with a lot of what they're doing — I think that's very exciting," she said.
Greene said she loves the wide selection offered by the brand, noting that there is "something for everyone."
"When you see designers coming out with their collections, sometimes it can be a little bit more focused on specific clientele," she said.
Vanessa Lundy, a 32-year-old fashion blogger and stylist based in Boston, attended the event and said she loved the collection for its variety as well, as she can see her clients and herself wearing it.
"It looks like designer that you can move in it with — it doesn't look like something you're just going to leave to admire," she said.
For Lundy, the cute little dresses give off a "'Breakfast at Tiffany's' feel," whereas the logo-covered jackets and velour suits bring back the "fun hip feel" of '90s streetwear.
In the past, Lim and Leon have worked with choreographer Justin Peck to create a ballet that premiered their collection on New York City Ballet dancers. They also worked with director Spike Jonze to design ready-to-wear collections inspired by Jonze's films, "Where The Wild Things Are" (2009) and "Her" (2013).
When asked about how young fashion designers should approach their careers, Leon said that having a unique point of view and knowing the technical aspects of fashion — manufacturing, quality and shipping logistics — are important. He also wishes to see a future fashion landscape that is honest and embraces cultures world-wide.
"I hope to see diversity, I hope to see inclusivity," Leon said. "I hope to see clothing and fashion that reflects the time we're living in today."