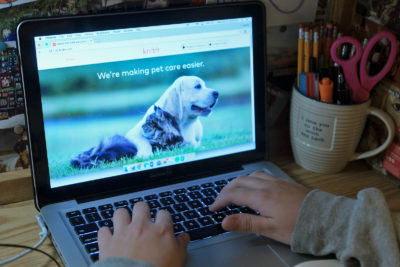 For Roger Hunt, CEO of Kriddr, "third time's a charm" is more than a saying. It's a career path.
First, Hunt studied philosophy. Then, he pursued psychoanalysis. Now, he's jumping into the startup world with Kriddr, which connects pet owners and micro-businesses providing pet care using a mobile platform.
His path to entrepreneurship, Hunt explained, was anything but typical.
As an undergraduate, Hunt studied philosophy at Montana State University. He later earned his master's in philosophy from Boston University's College of Arts and Sciences. Then, with two degrees under his belt, Hunt graduated into a recession.
"It was 2008 when I got out of college, and it's not like people were throwing jobs at people, so you kind of had to make decisions," Hunt said. "I was OK. Like, I could get papers into conferences. I could get published and everything, but I wasn't going to be Noam Chomsky."
After exiting philosophic academia, Hunt said he threw himself into psychoanalysis but found his experience similarly lackluster.
"I actually went to go train as a psychoanalyst at Boston Graduate School of Psychoanalysis down the street," Hunt said. "And it turned out I wasn't any good at that, either."
So, as Hunt is used to doing, he moved on. He said he picked up a gig selling solar panels and hopped around in software for a while. Then, Kriddr was born.
"He pitched me, and right from the very beginning I was like, 'That's a really awesome idea.' And I was onboard after our first discussion," John Kelley, COO of Kriddr, said.
While Kriddr is their latest venture, Kelley explained that he has known Hunt since they attended grade school together in Brookline. During their college years, the pair moved to different locales for school but never drifted apart.
Now, Kelley said, there's nobody he'd rather undertake the challenges of startup life with.
"He's always been top of the class," Kelley said. "So I knew that if I was ever going to do something, you know, something risky like a startup, that Roger is the person you want to have working with you because you feel very comfortable with his intelligence."
While Hunt is highly educated, he's never studied business. This, he said, has not hindered his experience starting a business. In fact, he contended it might be to his advantage.
"I've actually learned a ton about how all this stuff works," Hunt said. "Now that I'm in it and looking around, and it's actually something real … it's actually really simple and I can't believe business is even a major."
However, Hunt hasn't disavowed traditional schooling entirely. He said his study of philosophy has deeply impacted Kriddr's design.
"There is a very deep metaphysical bend to this whole thing," Hunt said. "How [the app] was designed is straight out of Gadamer. And the essence of the app is literally, word for word, out of 'Being and Time.'"
Reflecting on how his life has changed since Kriddr's inception, Hunt said the experience of building a startup has dramatically shifted how he sees people in his life.
"When you bring a business opportunity to somebody that involves a kind of risk … you really get a look at who they are," Hunt said. "I have a completely different view of all the people in my life, based on how they've responded and reacted to doing this."
Hunt's advice for students hoping to create startups of their own is simple: "Don't do it," he said. He said startup life, while exciting, is not always rewarding.
"Nobody ever tells you how good you're doing," Hunt said. "There's no results on a daily basis. There's no kind of reinforcement at all throughout the process."
But for those determined to create new ventures, Hunt said a gradual approach is best.
"Don't think you're going come out of school and somebody's going to give you a million dollars and you're going to go start this new, big tech boom thing," Hunt said. "Just try something small and cheap and see what it's like."