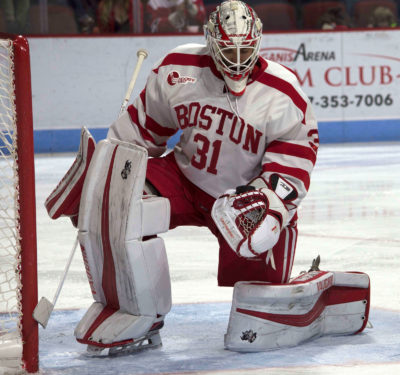 After two weeks in its home city, the No. 18 Boston University men's hockey team traveled to Orono to play another Hockey East competitor, the University of Maine. The Terriers (5-7-1, 3-4-1 Hockey East) were unable comeback from multiple one- and two-goal deficits as the Black Bears (4-5, 3-2 Hockey East) won 5-2.
BU head coach David Quinn said part of the Terriers' downfall was their inability to utilize their opportunities.
"We had quality shots and we had some great quality chances," Quinn said. "I said it last Friday [against then-No. 13 Northeastern University], you got to score goals and you got to keep them out of your net."
From the beginning of the contest, BU tested Maine's freshman goaltender Jeremy Swayman who made his fifth collegiate start.
However, it was Swayman's former Sioux Falls Stampede (USHL) teammate freshman defenseman Kasper Kotkansalo who picked up the loose puck in the slot for his first collegiate goal at 7:50. Freshman forward Logan Cockerill and sophomore forward Patrick Harper each got the puck to the net prior to the goal and were given the assists.
The Terriers were unable to keep the lead for very long as Black Bear freshman forward Brady Keeper wristed a power-play goal into the net from near the blue line past redshirt sophomore goaltender Max Prawdzik on the power play.
This marked Prawdzik's second collegiate start in the net after last weekend's 4-0 win against then-No. 9 University of New Hampshire.
Immediately after BU's second unsuccessful power play in the second frame at 4:37, senior forward Canon Pieper came out of the box and beat sophomore defensemen Dante Fabbro and Chad Keys to notch a breakaway goal.
The Terriers eventually went zero-for-six on their power play and Quinn thought an area where his team fell short was giving up goals to its opponent after its power play.
"All these little things add up to winning and losing, until we do it consistently, we do it most of the time, but it seems like when we don't do it, people take advantage of it," Quinn said. "We've just got to stop beating ourselves."
Pieper continued as an offensive threat as he attempted to wrap the puck from behind the net. He was denied by Prawdzik, but fellow forward Brendan Robbins capitalized on the rebound in front to give Maine a 3-1 lead.
Cockerill registered his second point of the night in the form of his first collegiate goal after a pass from freshman forward Shane Bowers at 9:00.
Despite picking up the pace in the second period and outshooting the Black Bears 13-8, the Terriers were unable to capitalize on their chances and the score remained at 3-2 going into the second intermission.
Swayman emerged as Maine's star player and denied all the shots his way from BU in the final period, leaving the Terriers without another tally. BU finished the night with a 42-28 shot advantage.
"He played great in net," Quinn said. "Listen, there are great goalies in this league, [but] if you want to win, you've got to beat great goalies."
Defenseman Patrick Holway sealed the Black Bears' win seven minutes and 45 seconds into the frame off a pass from forward Tim Doherty. Holway's goal was just the second shot Maine had gotten toward the Terriers' net.
After the goal, BU were unable to take advantage of their sixth power play opportunity and pulled Prawdzik in favor of an extra attacker.
Forward Patrick Shea picked up the loose puck and grabbed the empty-netter with less than two minutes left.
"I thought we had so many chances to make it three-to-three, and they come down and their first chance is in the back of the net," Quinn said. "That's really what's been happening for a while now. We've just got to persevere and get ready to play again tomorrow night."