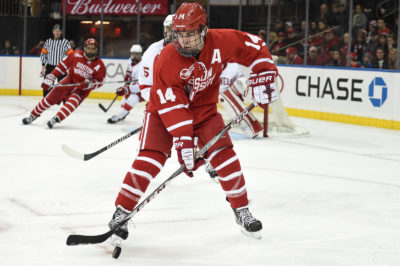 Coming off a season-high seven goals, the No. 19 Boston University men's hockey team looked to ride its momentum into Madison Square Garden for its biennial Red Hot Hockey game against No. 7 Cornell University. However, The Terriers (6-8-1, 4-4-1 Hockey East) could not overcome the Big Red (9-1) and recorded their first loss in the series.
The last time this series occurred in 2015, it resulted in a 3-3 tie. Junior forwards Bobo Carpenter and Jordan Greenway each found the back of the net in that matchup. The goal was the first of 19 career goals for Greenway.
Despite playing in "The World's Most Famous Arena," sophomore defenseman Dante Fabbro said he did not feel that the atmosphere changed his game.
"I don't think it affected my play at all," Fabbro said. "We practice all week on doing the right thing and making sure we go out and execute."
Junior forward Beau Starrett gave Cornell a 1-0 lead 16 minutes into the first period, his first goal of the season. Starrett snuck the puck past sophomore goaltender's Jake Oettinger's left shoulder. Fabbro attempted to poke the puck away from Starett, but was unsuccessful.
The Big Red would double their lead seven minutes into the second period as senior forward Trevor Yates beat Oettinger with a backhanded shot that went over the glove of Oettinger. Freshman forward Morgan Barron registered his second assist of the game.
Less than three minutes later, Cornell would add to its lead with a power-play goal. Junior defenseman Alec McCrea wristed a shot to Oettinger's glove side to give the Big Red a 3-0 advantage.
"The backbreaker was the third one," BU head coach David Quinn said.  "I thought we almost killed that penalty off, we get over extended and they throw it from the corner and they tip it in."
BU's first power play opportunity came 14 minutes into the second period when junior Brendan Smith would be sent to the box for two minutes for hooking. However, the Terriers would not be able to convert on their first chance on the man advantage.
BU would have one more player sent into the penalty box in the second period. Freshman defenseman Kasper Kotkansalo and Cornell's Vanderlaan would each receive a two-minute minor for roughing.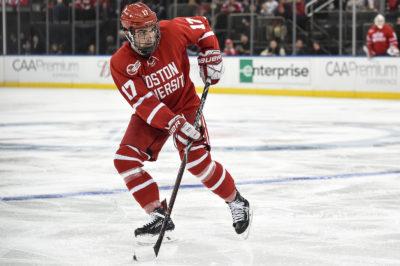 BU picked up its first goal of the night on their second power play opportunity five minutes into the third.
Fabbro shut the puck from on top of the slot underneath freshman goaltender Matthew Galajda's blocker for his fourth goal of the season. Sophomore defenseman Chad Krys and Carpenter each notched assists on the goal.
"I thought once we got down three nothing we started playing and we saw what we're capable of doing," said Quinn.
Cornell would answer back less than seven minutes later. Freshman forward Tristian Mullin shot went over the top right of Oettinger for his first goal of his career and put Cornell up 4-1.
Less than two minutes later, Krys would cut Cornell's lead in half as he connected on a one-timer with help from Carpenter. Fabbro would also earn an assist on the goal.
Just over a minute later, BU would strike again. Sophomore forward Patrick Harper would chip in a pass from freshman forward Brady Tkachuk and Fabbro.
BU would pull Oettinger with just over two minutes remaining in the game, but would not be able to capitalize with the extra-attacker and the final score would be 4-3 in favor of Cornell.
Despite playing a role in all three BU points, Fabbro was also on the ice for all four Cornell goals.
"I was also on for all four goals against," Fabbro said. "That is definitely something I take pride in, my d-zone and it's one of those things I look pretty hard on and think it's pretty unacceptable in my portion."
Despite the slow start to the season, Quinn remains optimistic about his team.
"I love our team," Quinn said. "I think we [have] got a really good hockey team."