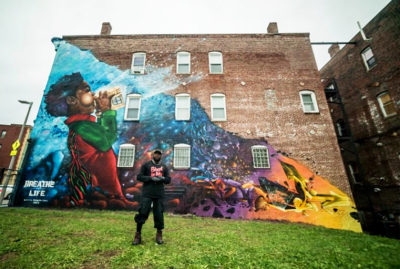 Mayor Martin Walsh announced Wednesday the selection of five artists for a series of public art projects. The projects are meant to provide a comfortable and secure environment for city residents as part of an initiative to improve the safety and well-being of Dorchester's streets.
The project, intended to invigorate the urban landscape of the city, will take place in the Quincy Street Corridor and Grove Hall business district of Dorchester, according to a press release from Walsh's office. The designs were created through community feedback.
Kristina Carroll, a spokesperson at the Mayor's Office of Arts and Culture, wrote in an email the project will use public art as a way to promote community engagement.
"With the addition of the public artwork, the Grove Hall community has the opportunity to reflect on this artwork and have conversations about it," Carroll wrote. "We hope that this will strengthen the community in ways that will make residents feel more connected in their neighborhood."
Carroll wrote that this urban art project will work to embody Dorchester residents and give neighborhoods identities and voices. She wrote that urban art is a "powerful tool that can be used to uplift, inspire and encourage the community surrounding it."
The artists were selected from a board including representatives from the Department of Neighborhood Development, the Boston Art Commission and Grove Hall Main Streets, according to the release.
The project is possible because of the Choice Neighborhoods Implementation Grant, an endowment intended to fund expansions related to public housing, provision of services and case management for residents, enhancement of businesses and improvements to local playgrounds in Dorchester, according to the release.
Chanel Thervil, one of the five artists selected, created the Affirmation Station, a collaborative public art project. She said the piece is intended to enrich people's lives by offering them an affirmation pin to serve as a reminder of hope and positivity. It is the only piece of art in the installation that's not a mural.
"My overall goal of doing this project is to get people to think differently about the support they have in their lives and also the different ways that that ties into self-care and wellbeing," Thervil said. "I feel like the tricky piece is measuring impact — and that's really difficult — there are so many ways that this project can affect people that I can't really measure."
Robyn Hannigan, the founding dean in the School for the Environment at the University of Massachusetts, Boston, said urban art is extraordinarily important, especially when thinking about the environment.
"All too often we forget that those structures also have life and the way in which people interact with those buildings and those spaces matter," Hannigan said. "We have to think about our challenges and perceptions of what the building is, of what the structures around us are and what our role is in the ecosystem is as we walk through it and as we spend time and interact with it."
Hannigan said because of Dorchester's diverse past, this initiative will fit in perfectly in the area.
"In Dorchester, every neighborhood has its own hidden history," she said. "The ability of a neighborhood to reflect and embrace its culture — each one of those streets is distinctly different in terms of the communities that are there — is wonderful."
Several Boston residents said they feel the mural will add much needed life to Dorchester's urban streets.
Willie Moore, 54, of Dorchester, said residents will appreciate the change.
"I would love to see more art in Dorchester," Moore said. "I definitely think it's worth it for residents and it will certainly brighten up people's day."
Tyler Martin, 35, of South End, said he thinks the program will provide long-term benefits for residents.
"You have to think about the cost of certain things and whether it's worth it for the City to put money in those directions," Martin said. "However, I can't imagine this utilizes a ton of money and I think these pieces of art will remain in the city for a very long time."
William Taylor, 52, of Dorchester, said he's looking forward to the sizable art project as he's appreciated smaller Dorchester murals in the past.
"I live in Dorchester and have seen murals go up here in there in the city," Taylor said. "I always love seeing them and it's something nice to look at to say the least. It will be a generally positive project."