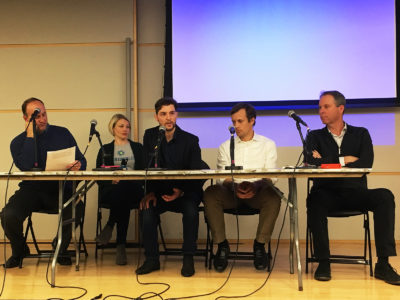 As the Earth's average temperature rises, officials are growing more concerned about climate change, and startups are looking into how to help solve this pressing environmental concern.
Boston University's Energy Club, Entrepreneurship Club and Net Impact Undergrad discussed on Tuesday startup companies' role in addressing the issues of climate change at an event called "Sustainability in Entrepreneurship."
Alexandra Bothner, the president of BU's Energy Club, said her club organized the event hoping students interested in entrepreneurship might consider applying that passion to solving sustainability challenges.
"With Energy Club, we focus a lot on renewable energy and sustainability and getting students into that field," Bothner said. "There are a lot of students, both in the business school … and other colleges, especially engineering, who are interested in entrepreneurship. So, [we're] just bringing those two things together and letting people learn about how they can go into that field."
Emily Reichert, the CEO of Greentown Labs, the largest clean technology incubator in the United States, encouraged students during her keynote address to tackle big challenges.
"Think about how you can use your training to solve a big problem," Reichert said. "Not a small problem, but something big … You will find that so much more satisfying to know that you're attacking something that's going to have a significant impact."
In her speech, Reichert said the federal government isn't doing enough to address climate change. But Reichert said she believes the private sector is poised to lead environmental initiatives.
"Private industry is absolutely taking a leadership role," Reichert said in an interview with The Daily Free Press. "You look at corporations [like] Amazon, Google [and] many, many others who are buying up renewable energy. Their customers want them to have clean energy, use clean energy and they're doing it."
Reichert said Greentown Labs is considering a partnership with BU — specifically with the Institute for Sustainable Energy at BU — since BU and Greentown Labs are "very synergistic."
Richard Stuebi, the president of Future Energy Advisors and senior fellow at BU's Institute for Sustainable Energy, said he has spoken with Reichert about the possibility of a "symbiotic relationship" between Greentown Labs and BU.
"We'd like to encourage more entrepreneurship and innovation at BU amongst the faculty and students, and, to the extent that it relates to clean technology, to be able to leverage Greentown for the capabilities and experiences and network that they have," Stuebi said.
That relationship, Stuebi said, could benefit the university significantly. He said he envisions more research funding and research being conducted at BU facilities.
Students, Bothner said, would be interested in partnering with Greentown.
"There's a lot of interest in that … bringing together the business side and the engineering side, because those students don't always interact a lot," Bothner said.
Andrew Almeida, a senior in the College of Communication, said BU's focus on sustainability is strong.
"I feel like BU's doing a good job, especially in bathrooms [and] with greenware … As a whole world … I feel like we could do some things to change, but BU I feel like is taking a step in the right direction for sure," Almeida said.
As Reichert closed her keynote address at the event, she presented 10 major environmental challenges for students to think about: climate change, energy, air pollution, water scarcity, chemical toxicity, biodiversity, the ozone layer, oceans and fish, deforestation and waste management.  
She left students with a reminder that their skillsets, however varied, could solve these challenges.
"Every single person in here, using whatever schooling that you have, whether you're a business person, you're a policy person, you're an entrepreneur, you're an engineer — you have something to contribute," Reichert said. "Every single person in here."
CORRECTION: A previous version of this article stated that Greentown Labs and BU's Questrom School of Business were discussing a potential partnership, which is incorrect. The lab is discussing a possible relationship with the Institute for Sustainable Energy at BU, not Questrom. The article has since been updated.