The Boston University women's hockey team beat Brown University 6-4 Tuesday night in the first matchup between the two teams since the 2010-11 season.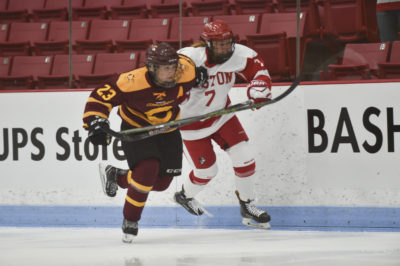 Early in the first period, senior forward Victoria Bach put the Terriers (6-7-2, 3-5-2 Hockey East) ahead 1-0 after winning a battle for the puck in the defensive zone and breaking past the Brown (1-10) defense, assisted by a pass-and-return from senior forward Rebecca Leslie at 3:50.
Despite the Terriers' most recent loss against the No. 1 University of Wisconsin, Bach earned the title of Hockey East Player of the Week after putting up her second straight five-goal weekend, becoming the only hockey player with multiple hat tricks this season after the game against Minnesota State University.
"It feels great to get that award, but there's definitely a lot of credit to my linemates," Bach said. "Our line has really been clicking recently. Overall, I think our team play has really picked up to the place we want to be."
Both teams had power play opportunities in the second half of the first period, but successful penalty kills kept the score 1-0 heading into intermission.
However, the game didn't remain low-scoring for long.
It started when Brown Bears senior forward Katie Swanstrom took a tripping penalty 2:03 into the second period.
Fourteen seconds later on the power play, BU freshman forward Jesse Compher found her first collegiate goal after a redirect on a one-timer from sophomore defenseman Abby Cook, with Bach picking up a secondary assist on the play.
"It took a while, definitely felt like I was getting the monkey off my back," Compher said of her first goal.
Less than a minute after that, the Terriers fell short on the penalty kill as Brown forward Sena Hanson lobbed the puck behind freshman goaltender Corinne Schroeder.
Fate repeated itself at 8:39 when Brown Bears senior defenseman Cynthia Kyin poked in another goal, tying the game at 2-2.
Just one minute later, another Brown player earned time in the penalty box. Leslie netted a goal off a precise pass from Cook one second after BU's power play ended.
In total, the six penalties committed by both teams in the second period resulted in three power-play goals.
Although it was down 3-2, Brown's momentum continued into the third period. The Brown Bears put up two goals less than a minute apart nearly five minutes into the period, including a second for Hanson that bounced off of Schroeder's pads into the net.
Down 4-3, BU head coach Brian Durocher called a timeout. After refocusing, the Terriers got back to work.
Eight minutes and 57 seconds into the third, Compher showed BU's offensive depth by taking control of the puck and putting up her second goal of the night to knot the game 4-4, again assisted by Bach and Cook.
Compher attributed her accomplishments to chemistry and confidence between teammates.
"More than anything, I think our unit is playing really well together and we're doing the things we need to do to be successful," Compher said.
To finish out the trifecta of Terrier players with a two-goal night, Bach and Leslie exchanged goals and assists in the final minutes of the third, combining for nine points on the night.
Cook also earned her fourth assist of the night on Bach's goal.
Durocher said he liked what he saw from his offense tonight, especially on the crucial game-tying goal.
"When we got to that tying goal, it was big because we moved it around like we practiced and no one stood around looking," Durocher said. "They trusted their ability, they were spot on."
With a big series against Boston College approaching, Durocher said he hopes for improvement on the defensive side.
"Going forward, we have to get back to business taking care of penalties," he said. "I didn't like that we let a couple goals in today, killing penalties. We've got to be better than letting up those mental errors."