Payton Hauck's junior season presents a tremendous opportunity. With the graduation of starting guards Sarah Hope and Courtney Latham, the 5-foot-9-inch slasher is tapping into her sky-high potential and is reaping the benefits of open minutes.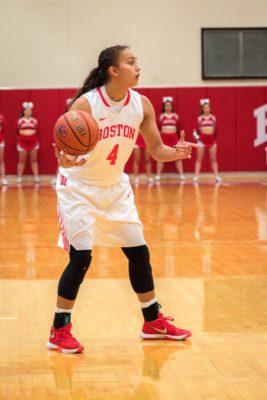 Hauck started 18 contests over her first two seasons, and this year, the Boston University women's basketball head coach Katy Steding inserted Hauck as the starting shooting guard from the outset. The York, Pennsylvania native responded with career-best scoring performances in the team's first two games.
Her grit, tenacity and desire for consistency earned her an increased role for the 2017-18 campaign.
"One of the things that she is capable of is a tremendous scoring output," Steding said. "She's so athletic, so explosive, that she's a difficult matchup for anybody."
In a nail biting 74-73 season-opening victory at home over Northeastern University, Hauck paced the Terriers (4-2) with a career-high of 15 points in just 17 minutes. She added three steals and two assists while going 6-9 from the floor.
Hauck eclipsed her career-best performance in BU's second game at the University of New Hampshire, scoring 16 points, including two triples. She continued to succeed in her next three games with 12, 15 and 7 points respectively.
 "[Scoring] gives me confidence, but what I like about this season so far is that we have multiple people scoring in double digits," Hauck said. "Now we're just sharing most of the points."
Just a 34.5 percent shooter over her first two seasons, Hauck said she strove for consistency in her shooting in workouts over the summer and sought to up her average of 3.0 points per game from her first two years.
"For the past two years, I've been known as a driver, and needed to expand my game," Hauck said. "As a team we have goals of making 500 or 1,000 shots per week, and I just kind of stuck to that."
Hauck also credits assistant coach Ben Chase with helping her develop a shot that is tickling the twine at nearly a 60 percent clip.
"He just really works with me on my footwork and just shooting in general," Hauck said.
Chase said he worked with Hauck individually when the NCAA allowed extra hours for coaches to spend with players in the gym.
"A lot of that is really driven by the individual players and what they want to work on," Chase said. "This past offseason she wanted to step up her game, so we really focused on improving the speed, intensity and consistency of everything she does."
Steding said Chase works with the wing players on a daily basis in practices, a group which Hauck is a part of. Associate head coach Cindy Blodgett works with the primary ball handlers and assistant coach Jenny Thigpin is in charge of the post players.
Athleticism is the trademark of Hauck's game, and between her and classmate Naiyah Thompson, the Terriers boast two of the premier wing defenders and overall athletes in the Patriot League.
"I think Naiyah Thompson owns it on defense. Payton's taken on the role of a really aggressive scoring guard for us and the more she gets comfortable in that role, the more we're going to lean on her," Steding said. "I'm really proud of the progress that class has made."
Hauck said her game is defensive-minded, and honing in on those skills helps her to score in transition on fast breaks.
"I think that kind of builds intensity and creates offensive plays from the back if we're playing tough," she said.
BU often runs a three-quarters court zone defense, where Hauck thrives as one of the secondary trappers.
"I love our zone defense," Hauck said. "I think trapping out of it helps us to get good plays and get back on offense, and our transition is great out of it. It brings a lot of energy because we're all so excited and running like chickens with our heads cut off. It's fun, in my opinion."
The aforementioned duo of Latham and Hope made up the majority of the starts with the women's basketball program over Hauck's first two seasons, as Hope started in 44 of 60 appearances and Latham started 50 of 56.
Hauck said playing behind Hope and Latham helped her to learn and incrementally take on a larger role instead of being expected to dominate the ball from day one.
"They're both great leaders and just tough overall, smart players too," she said. "I think it was a point where we kind of needed to step up and fill their shoes."
Hauck showed promise over her first two seasons, highlighted by a 12 point, 9 rebound, 6 assist, 2 block performance against conference rival College of the Holy Cross on last season's senior day. She even soared through the air for a tip-in, one of her game-high four offensive rebounds.
"Payton's so athletic and has such great moves to the basket, you could tell she was going to evolve into a great college player," Hope, who now serves as the director of women's basketball operations at Holy Cross, said. "When I played with her, she was so good at sharing the basketball, but I think now being an upperclassman she's stepping into a new role of becoming a main scorer for the team."
BU shocked the conference last season, finishing in fifth place at 13-17 overall and 11-7 in the Patriot League, after being picked last in the preseason poll.
Hauck strives to eclipse that mark in her newfound role and guide the Terriers to host a Patriot League tournament game. After going just 3-27 over the season and 3-15 in the Patriot League during her freshman season, Hauck said the team morale is now looking up.
"It's definitely better to learn from a win than from losing all the time," Hauck said. "Coming out on the floor we have a lot more energy."