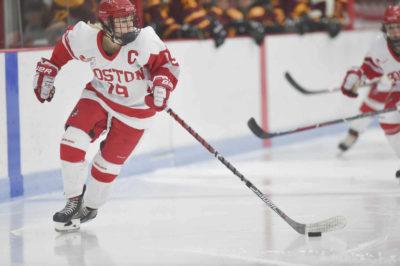 For the Boston University women's hockey team, the 2017-18 season started with a unique challenge to its team identity. A turnover of over a third of the Terriers' roster left room for eight new faces to join the team.
Among last year's graduating class were both of the team's co-captains, forward Natalie Flynn and defenseman Alexis Crossley.
This season, the young team is looking for guidance in its new captain, senior forward Rebecca Leslie.
When asked about the selection process, BU head coach Brian Durocher directed the credit toward the players who elect their captain through a team vote.
"They felt that [Leslie] was a good teammate, someone who cared about the backup goalie as well as the starter, the seventh defenseman as well as the one on power play and the fourth liners as much as her fellow first liners," Durocher said. "That's what resonated in the players' minds, and she has done a great job along with [assistant captains senior forward] Victoria Bach, [senior goaltender] Erin O'Neil and [junior forward] Sammy Davis."
Durocher, a former co-captain of the 1977-78 BU men's hockey team, emphasized that captaincy requires someone to take a stand in the locker room, provide an extra level of leadership and hold their teammates accountable in tough situations — a role that isn't always easy for a player to assume.
To Leslie, being selected by her teammates for this responsibility is a source of pride.
"It's definitely an honor," Leslie said. "Each captain I've had at BU has been different and created an environment that allowed us to be successful, and I just try to use a bit of each of them and be the best captain I can be for them."
Six of the eight players added to the roster are freshmen, coming from various leagues across the United States and Canada.
While some captains could have qualms about having so many teammates making their first jump to college hockey, Leslie sees a lot of potential in the Terriers' young team.
"I think [having so many young players] is really exciting," Leslie said. "They've come in and really stepped up in the gym and in the locker room. Each player has come in confident and we've played well as a team, I'm pretty happy with that."
During her own first year at BU, Leslie earned 31 points with 14 goals and 17 assists in 35 games, earning her a spot on the Hockey East All-Rookie Team.
As a sophomore, she earned a career-high 49 points and career-best 34 assists over 39 games.
In the final half of her junior year, Leslie hit the 100 career point benchmark in a 5-2 win against Providence College on Jan. 22.
After being unable to collect a point in the first four games of her final year, she has since earned a point in 10 of the Terriers' last 11 games, eight of which were multi-point nights.
Durocher noted that her resilience after the start of the season is a sign of maturity in her play.
"This year, she had a bit of a drought, but was quick to recapture her touch and a little bit of adversity like this is the sort of thing that make you better as a hockey player, better as a person in the long run," he said. "She's really developed into a three-zone player, being more responsible defensively, being really smart about the game, but not least of all, I think she's finally believing that she can shoot the puck."
Leslie's play also caught the eye of the National Women's Hockey League's Metropolitan Riveters, who picked her 19th overall in the 2017 Entry Draft.
The Riveters also picked up Bach earlier in the draft, who Leslie sites as a major benefit to her offensive production.
The NWHL, the U.S. women's hockey league, was founded in 2015, showing a noteworthy growth in women's hockey within just the time that Leslie has been at BU.
"When I was a younger player, I was normally with all the boys so it's good to see little girls playing on teams of all ages," Leslie said. "Especially now, after college we have more options to play, there are different leagues. It's really exciting."