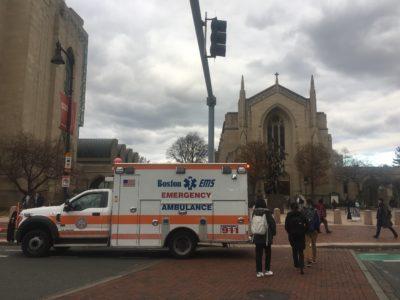 A sophomore in the College of Fine Arts was taken to Beth Israel Deaconess Medical Center Friday afternoon after having convulsions on the floor of Marsh Chapel.
The student, a member of the Boston University Singers, had become unresponsive during a rehearsal, Sam DeSoto, another member of the group, said. The group had been practicing for its Advent concert, which is tonight.
When an ambulance picked up the student outside Marsh Chapel, the student finally started responding, DeSoto, a CFA junior, said.
"The scary part was that this was all happening slowly over a two-hour period," he said. DeSoto later wrote in a Facebook message, "Our director, Dr. Felipe, was very helpful and stayed on the scene until everything was confirmed to be okay and she was on the way to the hospital."
Since being taken to Beth Israel, the student has continued to show responsive signals, DeSoto wrote.
"I can confirm that the student had not been feeling well and, by the end of class, required professional medical attention," Miguel Felipe, director of choral activities, wrote in an email.
When the paramedics arrived, the class had moved into Robinson Chapel, Marsh Chapel's basement room, Felipe wrote.
"I'm grateful to my students and the paramedics who all stepped in immediately to help one of our students," Felipe wrote. "She's in good hands and we'll all keep her in our thoughts while she receives care."
Justin Blackwell, associate director of music at Marsh Chapel, also confirmed the incident with the Marsh Chapel office, but because the choir is associated with CFA, he had limited information.
"We hope that the girl gets the care that she needs because she's clearly ill," Blackwell said.
After hearing back from CFA senior Riley Gallivan, who accompanied the student to the hospital, DeSoto said the student is "talking and smiling and doing much better."
The Boston University Police Department declined to comment on the incident.
Solange Hackshaw contributed to the reporting of this article.