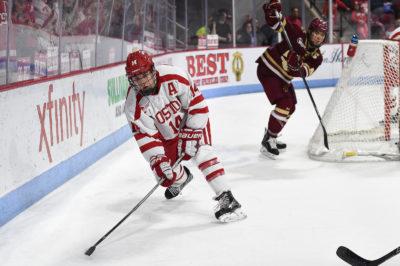 After scoring two power-play goals on Friday night, which included sophomore defenseman Chad Krys' game-winner, the Boston University men's hockey team was unable to replicate the same success against No. 15 Boston College the following evening at Agganis Arena.
The Eagles (9-6-2, 9-2 Hockey East) entered the series with an impressive 83.8 percent penalty kill success. However, it fell short as the Terriers (7-9-1, 5-5-1 Hockey East) went two-for-five on their power play during Friday's contest.
BC stormed back on Saturday night with its usual aggressive power play, taking home a 4-1 win while limiting BU to no power-play goals over six chances.
Despite the Eagles' sophomore goaltender Joseph Woll allowing six goals the previous night, he came back and led his team to a win.
"[There] were some great saves by Joe, that helps our penalty killing," BC head coach Jerry York said. "I thought our sticks were on the ice better. We deflected some pucks, we deflected some passes, but we've always said, 'Your best penalty killer is your goaltender,' and Joe made some phenomenal saves."
BU had a power play chance midway through the first period, but were unable to get a shot on goal as the Eagles' penalty killers blocked the slot and hemmed the Terriers in.
Shortly after the penalty expired, the second matchup of the series followed a similar pattern as the first, with BC scoring two goals in the first period to put itself up 2-0.
"Our power play obviously let us down tonight … and not only were we zero-for-six, but we didn't look good doing it either," BU head coach David Quinn said.
The Terriers had three power play opportunities in the second period and rattled off five shots collectively on those chances.
During their third power play of the night, the Eagles took control of the penalty kill. Freshman forward Christopher Grando got a breakaway bid and almost got the puck to the net, but his shot eventually went wide.
While these man advantage opportunities went unsuccessful in the middle frame, it was freshman forward Shane Bowers who scored BU's lone tally of the night on a five-on-five to cut BC's lead in half.
However, sophomore forward Ron Greco scored his third goal of the series to give the Eagles another two-goal lead.
The Terriers had two power play chances in the final period of the night to try and knot the game, but they were once again unable to capitalize on their opportunities.
"We had some great chances," Quinn said. "We just ran into a great goalie and we just didn't finish our opportunities, and if you weren't getting the chances, it would be a lot more alarming. I think we've been more opportunistic over the last three weeks and that bodes well for us moving forward."
BU had a late chance to get another goal after junior defenseman Michael Kim drew a penalty at 16:31 for holding. The Terriers pulled sophomore goaltender Jake Oettinger with less than three minutes remaining in favor of an extra-attacker for a six-on-four chance.
BU remained unable to capitalize when it had the man advantage until BC forward Graham McPhee scored the empty-netter goal to seal the win.
The Terriers outshot the Eagles 36-23 overall, as well as 16-8 and 13-2 in the second and third periods respectively.
"I think that we've got to be more consistent as a team, and when we get one win, we can't just think that the next one's going to come easy," Bowers said. "We're at a point in our season right now where we've got to change that pretty fast, but I know I'm confident and I think the guys in the room are confident that we can do that."