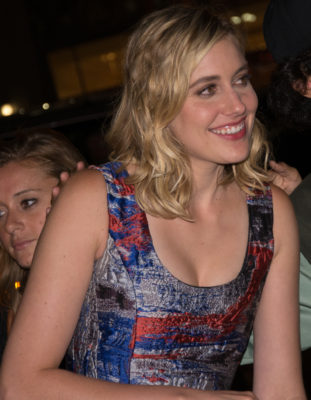 "Lady Bird," writer-director Greta Gerwig's widely beloved coming-of-age tale set in early-2000's Sacramento, is a critics' darling — one that just toppled 1999's "Toy Story 2" with a Rotten Tomatoes record of 164 consecutive positive reviews.
"It's amazing to have it be received like this because I know how much love and care and effort every single person who worked on this film put into it," Gerwig said in a phone interview with several media outlets on Friday. "To get that love back is extraordinary."
Such recognition is particularly significant in a year of critically-acclaimed films with women at the helm, Gerwig said, citing Patty Jenkins' "Wonder Woman" and Dee Rees' "Mudbound," both of which have over 90 percent ratings on Rotten Tomatoes.
"I think that this year has been an amazing year for women in film," she said. "To be part of that conversation [on great women in film] is very meaningful to me."
Gerwig said she appreciates male coming-of-age stories, like "Boyhood" and "The 400 Blows," but she wants to see the other side of those stories — that of the female perspectives and female relationships.
While Lady Bird, the film's main character, is involved in heterosexual romantic relationships in the film, Gerwig said she didn't want them to be the focus of the story.
"We [already] got a lot of good [films about romantic relationships] like that," she said, noting that films centered non-romantic relationships can be harder to produce due to difficulties in securing funding and support.
"I've made it a goal as a writer and as a director to tell stories about women [in which] the primary relationship is between two women," she said. In "Mistress America" and "Frances Ha" — films she co-wrote with Noah Baumbach and in which she starred, Gerwig said the choice to focus on women was "deliberate."
"It felt like I was interested in emotional relationships that were just as deep and vivid and filled with complexity [as heterosexual romances]," she said. "I wanted to make something that was about not only a young woman but about a mother and a woman and a place."
"Lady Bird" is also a film about growing up. But when Gerwig was writing "Lady Bird," she considered many movies that "deal with both coming of age and growing up and occupying identity," she said.
She focused on past works that were not only about childhood but also the loss of childhood.
"I wanted it to be as much about the adults as it was about the teenagers," she said.
Some have noted that Lady Bird's story bears a resemblance to Gerwig's on life — both grew up in Sacramento and attended Catholic high school before moving to New York for college.
But Gerwig said the movie isn't necessarily autobiographical. While she may draw upon her experiences for inspiration, characters she writes and portrays aren't intended to reflect her own life.
"I start with some kernel that's real and so quickly the characters spin out and become their own people," she said. "The impetus is starting from a place of familiarity and letting that be the place where I invent."
Gerwig said that invention doesn't have to be tied to reality so much as it needs to be personal.
"I like filmmaking that's personal. I like writing that's personal. Whether or not it's real, it's never mattered to me," she said.
She also noted that her writing is never about one single character but of many. Every film tells the stories of multiple experiences and personalities.
"I never want to turn away from the darkness, but I also don't want to present villains," she said of creating complex characters. "I want them to be allowed to be flawed and loved."
Gerwig said Lady Bird's complexity — not just emotionally, but also in terms of her interests — is "an indication of being open and curious and looking for what the thing will be."
"The vast majority of 17-year-olds are figuring out [what they want to do]," she said. With that in mind, Gerwig advises teenage viewers struggling to find their direction not to follow their passion but to follow their curiosity.
"If you follow your curiosity, the worst thing that could happen is you spend your whole life following your curiosity."