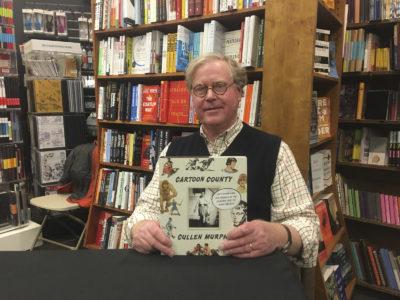 Cullen Murphy, an editor-at-large for Vanity Fair and former managing editor at The Atlantic Monthly, combined his longform narrative skills and comic-filled childhood in his latest book, "Cartoon County: My Father and His Friends in the Golden Age of Make-Believe."
In an event put on by the Harvard Book Store Tuesday evening, Murphy spoke to a small crowd about "Cartoon County." He described the book as "a memoir, but not about me," since it is a historical account of the roughly 150 comic book writers who lived in "one small patch of the world" in southwestern Connecticut from the late 1940s to the early '90s.
Murphy grew up in the 1950s and '60s in Connecticut and he said these writers made a large impact on his childhood. When his father, cartoon artist John Cullen Murphy, died in 2004, Cullen Murphy realized that many of his friends in the comic field were dying out.
"I was worried that this society, this little bohemian enclave in the midst of a world that was very different, was going to cast from the scene without anybody writing down what it had been like," Murphy said during Tuesday's talk.
Alex Beam, a columnist at The Boston Globe and the event's moderator, described the book in an interview with The Daily Free Press.
"He's writing about his own father, so he struck a loving tone," Beam said. "It's a straight-ahead account of this very unusual profession that really doesn't exist anymore. Now there's only, like, six or seven people who do what these 150 did."
Beam referred to Murphy as "an awfully sophisticated writer," noting Murphy's ability to combine objectivity with subjectivity.
"The really excellent writers can grasp a tone, and this is one of those books that succeeds in that," Beam said.
Murphy said he had been astutely aware of how, when writing about family and loved ones, "you can easily tilt over into something that is deeply meaningful to you personally, but to a reader comes across as saccharine."
Spencer Ruchti, the Harvard Book Store marketing coordinator who ran the event, said he was impressed by Murphy's ability to both chronologize an entire era and share pieces of his childhood.
"I thought the subject of his book was wonderful, because it's nostalgic for an era of Golden Age comics that I think a lot of the younger generation, especially graphic novel fans, don't get to see every day, and that it was and still is such a viable career option as well for some people," Ruchti said.
Kirun Kapur, an audience member and writer from northern Massachusetts, said she enjoyed the historical account of the comic world in the book.
"I didn't know anything particular about it, but I found it interesting not just to talk about the way words and pictures fit together, but that whole time period, which is gone," Kapur said.
The family aspect of the stories in Murphy's book appealed to other attendees.
"We all wonder who our parents were and if [Murphy] had an opportunity to work with his dad, then that's an amazing sort of universal story that I'm looking forward to reading," Mark Vanhoenacker, an audience member from New York City, said.
While a lot of people in the audience were familiar with the comic world, Murphy said he attempted to reach beyond insiders to people like Kapur and Vanhoenacker. It's both a love letter to classic American comics and an important historical document, he said during the talk.
"I was trying to capture this moment in time at the peak of the American century when these people lived together, worked together, socialized together and created an unreal world that had its own form of reality," Cullen said. "And that was the reality that nurtured me and my family and so many people that I knew. That was the impetus behind the book."