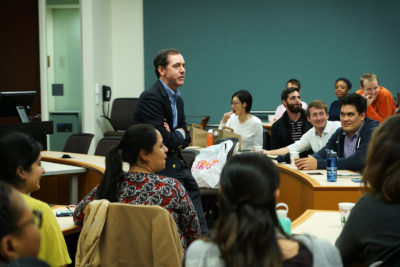 With health care costs on the rise, many Americans are concerned about their ability to ensure healthy futures for themselves and their families. In 2016, premiums rose seven percent on average, and patients are expected to cover those increases, according to Forbes.
At a coffee talk sponsored by the Questrom School of Business' Health Sector Management Club last Tuesday evening at Questrom, graduate health sector management students discussed rising costs of health care and quality of care, as well as other recent health sector news with health sector management program head and Questrom professor, Ned Rimer.
Sipping on coffee and munching on donuts, students shared their takes on the costly and complex health care system.
Rimer started the discussion by talking about a 2012 TED Talk by Atul Gawande entitled "How do we heal medicine?" Gawande's presentation centered around the rising cost of health care and the necessity for pit crews in the medical world; doctors that specialize and coordinate their specific tasks with others rather than seeking self-sufficiency and autonomy in the workplace.
Gawande also emphasized the necessity of fixing the health care system. In an interview after the coffee talk, Rimer said fixing the system is important.
"One of the challenges that we have is that there is not really a formal system," Rimer said. "The system kind of grew up over a long period of time and so one of the challenges when something is becoming increasingly complex like the health sector in this country, is how do you create a system that works with that level of complexity?"
Rimer expressed his admiration of Gawande's TED Talk and said, "getting an MBA degree and going through the curriculum here is a great way to help build the future system that we need given the complexity of healthcare today and tomorrow."
Rimer said the health sector management program at Questrom is largest program in the overall MBA program. According to Rimer, "There are about 190 health sector management students that are all getting their MBA here at Questrom."
Supporting those students with their journey through the program is the Health Sector Management Club, which has a mission to provide educational and professional development as well as networking events for students enrolled in the health sector management MBA program.
The club hosted the coffee talk with the intention of connecting topics students were learning in their core classes to present day healthcare issues. Previous events of the club have included trips to local Boston area companies and hospitals such as the Boston Medical Center. The club has also sponsored talks and featured speakers from the health sector.
"In Questrom, students that are in the health sector management program don't start taking classes in healthcare until either the very end of their first year," said Adam Richman, president of the Health Sector Management Club and second-year graduate student.
He added, "If they're a part-time student, [it's] their second year of being in the program because you have to take the core curriculum first."
After receiving feedback from students last year, Richman said he learned students wished they got engaged sooner with health care topics.
"Most people here are brand new full-time students that started in September or part-time students that started in September as well," Richman said. "They have not been exposed to Ned [Rimer] or healthcare topics yet."
Nina Zelcer, a first-year full-time graduate student in Questrom, said that she attended the coffee talk because she wanted to discuss issues that are important to her.
"I am a health sector management-focus MBA, and I really love Ned and so to just have a discussion about health care is something I wanted to have," she said. "I was excited to be here and talk about issues I really care about a lot."
"I wanted to get a pulse check on what's going on," said John Saad, a graduate student in the Health Sector Management program. "[I] had a little bit of interest getting to know these people in the program and also learning about the courses."
When asked what he hoped MBA students in the Health Sector Management program would take away from it, Rimer said to have hope, because students can make a difference.
"They can do the types of things we talked about last night in the discussion. They can help improve the [healthcare] system in this country and around the world," Rimmer said. "They can actually create a system, a system that helps patients and aligns all the stakeholders involved in the health sector so that we have better healthcare and better health."