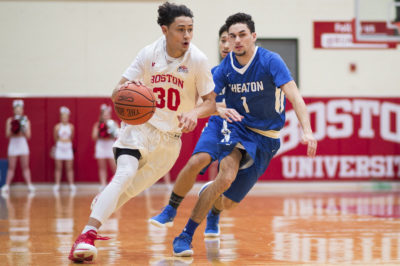 The Boston University Terriers traveled to Miami Monday night to take on the No.10 University of Miami the next day. Coming off a three-game winning streak, the Terriers (3-3) look to give the Hurricanes (7-0) their first loss of the season.
In their third season win, the Terriers pulled off a close victory against the University of New Hampshire earlier in the week. Senior forward and Miami native, Cedric Hankerson had a team high 17 points and shot nearly 44 percent from the field.
Also returning to his home state of Florida is senior forward Nick Havener. The Sarasota product leads the Terriers in rebounds with 37 and is second in points per game with 10.7. Hankerson leads the Terriers with 12.2 points a game.
"I'm proud of the way we're playing right now," BU head coach Joe Jones said. "I like the way we have played recently."
More performances like Hankerson's will be needed to take down the undefeated Hurricanes.
Miami has won six out of their seven games by double digits. Miami has not reached the NCAA tournament since 2016, but is looking like a strong contender given their impressive season start.
"They are such a competitive team," Jones said. "They play really well."
The Terriers look to exploit their momentum to force an upset and claim their first victory against a nationally ranked opponent since 1959.
However, in order to do so, BU will need to rethink its defensive strategy.  
The Terriers have frequently tried to stifle their opponents on defense by double-teaming or guarding the perimeter tightly.
However, given the prolific scoring of Miami's 6-foot-1-inch sophomore forward Dewan Huell, BU will need to focus more on interior pressure. Miami's presence in the paint will render their perimeter defense ineffective.
"They have so many weapons," Jones said. "Pick your poison … but Huell is definitely a threat. He presents a lot of challenges just because of his size. We'll have to mix it up and make an effort to contain him inside".
As such, the Terriers may try to double team inside or even try a "bluffing" technique — more of a scare tactic that aims to make opponents play safer and more conservatively.
Jones mentioned that senior guard Cheddi Mosely and sophomore guard Destin Barnes are both injured.
Strategically, the Terriers can leverage their crisp passing abilities to remain competitive offensively. Navigated by freshman guard Javante Mccoy, BU's perimeter passing has led to several open three-point attempts and good post-up opportunities. Such passing, although unfruitful in racking up assists, can give them some control.
Against the Hurricanes, the Terriers may have to resort to more perimeter play. The sheer height advantage Miami possesses may be enough to deter interior forays by the Terriers, whose performances in the paint have been inconsistent at best.
This game will be the first of a three-game road trip before returning home to host Elon University. Having won half their games, the Terriers currently stand in third place in the Patriot League.
Conference play is still some time away, but these non-conference games can be formative experiences for the still fledgling squad that is trying to find its way.
"We take it one game at a time," Jones said. "There were some things that we did against [University of Connecticut] that I'd like to change this time around."
More important than the outcome of their performance, Jones said that the Terriers' game against Miami will certainly be a learning experience.
"We've got our hands full," Jones said. "There's no doubt about it, but our guys are looking forward to playing in this sort of environment."