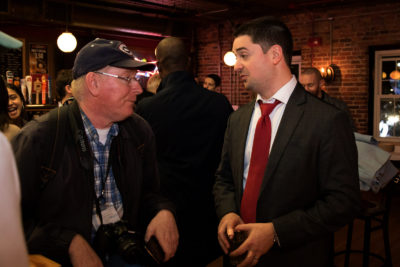 Boston city councilor Josh Zakim announced Monday he will be running for Secretary of the Commonwealth in 2018, a decision coming shortly after he secured another term as city councilor for District 8.
Zakim, who has been on the council for more than four years, will challenge the current Secretary of the Commonwealth William Galvin in the Democratic primary. Zakim is not only running against an incumbent in his own party, but he's also attempting to break Galvin's 24-year term in office, one of the longest tenures in the Massachusetts' history.
Zakim said he intends to make voting simpler for residents by creating a more all-embracing environment, an issue he says Galvin hasn't effectively targeted.
"There's a need to make it easier for people to vote," Zakim said. "We need to be striving for inclusion as opposed to exclusion [and] that's something that has not really been embraced by the current secretary of state."
Zakim said Massachusetts' current three-week voter registration term extensively limits and restricts certain residents, like college students, who often move in early September.
"You need to register three weeks ahead of an election, and we have a lot of primaries that are in early September," Zakim said. "Many people move on September 1st, and that effectively makes it impossible for them to register in time to vote, and there's no reason for that."
Zakim intends to continue his work as a city councilor while campaigning against Galvin.
Danny Factor, an elected member of the Green-Rainbow Party of Massachusetts and the co-chair of the Assabet River Valley chapter, wrote in a Facebook message Zakim's campaign will dismantle the firmly rooted trend of undisputed elections in Massachusetts.
"It is good for democracy to have contested elections," Factor wrote. "Massachusetts leads the country in uncontested elections, and Galvin has done little to encourage Massachusetts to have more contested elections and campaigns, beginning with his own office."
Factor wrote while he is pleased to see Zakim running, he does not endorse Zakim's candidacy or his choice to run as part of the Democratic Party.
"If Zakim was really interested in lasting reform of our political process, he would not have embraced his [party's] nomination of Hillary Clinton, and would have run under the Green-Rainbow designation or as an independent," Factor wrote. "Running as a Democrat, Zakim is making a statement that he still supports corporate-run politics as usual, as both the Republican and Democratic Parties are corporately run and controlled."
Factor wrote although he agrees with several of Zakim's views, including his encouragement of same-day voter registration and his support for an improved public records process, he wishes for even more sweeping changes in the state.
"I call for a revamping of the Secretary's corporations division towards a corporate policy that favors local based worker co-operatives, green small businesses, and a corporation's policy that disfavors unsustainable business and businesses that causes harm to people and other living things such as weapons companies and polluters," Factor wrote.
Several Boston residents said they believe Zakim, if elected, will contribute a more calculated approach to creating a progressively fair and inclusive space for all citizens and voters.
Stephanie Brown, 35, of Roxbury, said Massachusetts residents could benefit from Zakim's fresh political approach if he's elected in 2018.
"It's the same faces [and the] same names all the time, so I think it's going to be good for the Commonwealth to have somebody that's new and somebody with some fresh ideas," Brown said.
Fred Basch, 77, of Back Bay, said he believes Zakim, if elected, will effectively lead Massachusetts to a more fair and inclusive voting process.
"I would expect him to keep Massachusetts moving in the direction that it has been moving in, [like] easier registration and [making] sure the [government] roles are kept intact," Basch said.
Nancy Driscoll, 50, of Brighton, said it's time for a new face in the office of the secretary.
"Galvin's been there for a long time, and I don't really have anything major against him, but sometimes it just feels like you need to bring in some new people, some new ideas," Driscoll said.  "I really like what he's proposing around the voter rights and the same-day voter registration."