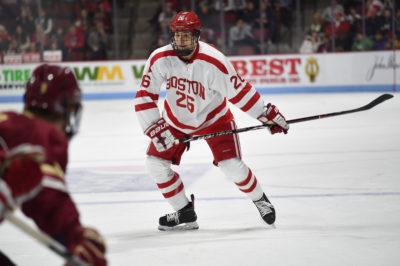 Finland-native Kasper Kotkansalo has carved out a strong niche for himself as a member of one of the Hockey East conference's most dangerous defensive lines in his first year at Boston University.
The 6-foot-2-inch, 190-pound defenseman has seen ice time in 13 of the Terriers' (7-9-1, 5-5-1 Hockey East) first 17 games, recording his first collegiate goal on Nov. 17 against University of Maine.
"It's important for us for our freshmen to score because we are dressing eight of them every night," BU coach David Quinn said following the team's two-game set against the Black Bears (6-7-1, 4-4-1 Hockey East) last month. "It means alot to them and it means alot to me. It's good to see those guys get rewarded statistically."
He has also chipped in three assists on the season to go along with 30 shots and 23 blocked shots, which is the highest among the freshmen on the team, on the defensive side of the ice.
Despite just recently turning 19 on Nov. 16, Kotkansalo has no shortage of competitive playing experience. While he lived in Espoo, Finland, he spent four seasons in the Espoo Blues program, playing in the same organization that has seen the likes of former Terrier defenseman Peter Ahola and 2002-03 NHL All-Rookie Team selectee Tyler Arnason.
In the 2016-17 campaign, Kotkansalo decided to leave Finland to play for the U.S. Hockey League's Sioux Falls Stampede, where he spent a season playing 47 games, netting a goal and 11 assists.
Kotkansalo said that his time in South Dakota was a learning experience and a significant transition that took some getting used to. He had to learn the tricks of playing hockey in North America while also becoming accustomed to U.S. culture, all while fine-tuning his English skills.
"Last year was very hard," Kotkansalo said. "I [learned] the North American game. The small rink game, the language, the culture. Obviously, the culture is a little bit different from Boston, but I [had] to move away from home and pretty far away from home too. [I was] getting used to all that, speaking English and having American friends. Now, it's much easier."
After getting a feel for being playing hockey in Sioux Falls last season, Kotkansalo said he considers himself a U.S. college student, something he said he enjoys.
"College has been much easier than I thought," Kotkansalo said. "I like our university a lot. There is so much happening all the time. I like the college setup. Even though my dorm is what it is, I still like that. I like the social aspect of it. I have met so many new friends whether they are other athletes or other students. Combining hockey and studies, that is why I came here. I can't do that back home."
As the lone European on the team among 21 Americans and five Canadians, Kotkansalo said he has relied on his teammates to help him adjust to living in Boston.
"When I came, they took me in right away as their friend," Kotkansalo said. "[Freshman forward] Brady Tkachuk's grandparents, I go [to their house] every Sunday to get a home cooked meal. That's really nice."
After coming to BU, Kotkansalo has also been exposed to a new style of play compared to what he had become accustomed to playing in Sioux Falls and Finland.
"Playing in the NCAA, the guys are much stronger than in the USHL," Kotkansalo said. "The game is faster, more skill. It all comes down to small details. The margins are much smaller and there are very tight games. Overall, the hockey is much better with better individuals."
The game is not only different on the ice, but in the stands as well. Kotkansalo said he did not realize how loud the crowds would be at BU.
He witnessed a very rowdy environment last Friday when the Terriers traveled to then-No. 9 Boston College to challenge the conference-leading Eagles (9-6-2, 9-2 Hockey East) at Conte Forum.
"In Finland, I never experienced anything like that," Kotkansalo said. "In Sioux Falls, we had a huge rink, so having big crowds there prepared me a little for these college games. But it never got as rowdy as it was like this [past] weekend. It was unbelievable."