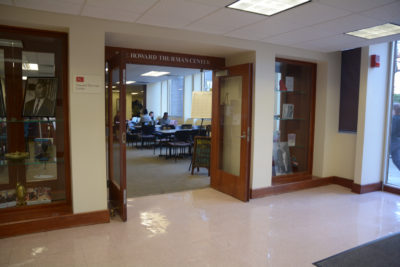 Students circled Boston University's Howard Thurman Center for Common Ground as Erykah Badu, Kendrick Lamar and Solange's "Don't Touch My Hair" played in the background as they waited for the presentation to start. On the screen was a projected image of three black women with their natural hair.
BU's African Students Organization and Brothers United collaborated to host "Know Your Hair, Love Your Hair," an event where students were able to learn tips and tricks for taking care of their natural hair. In addition to a conversation about hair care and hair politics, students also had the chance to make their own products.
To open up the conversation, Josephine Amusa, co-president of ASO and senior in the College of Arts and Sciences, posed the question, "What does it mean to be natural?" Some answers included: "It's a learning process" and "It's about self-love and going back to your roots."
According to an article from the natural hair website Curl Centric, "the natural hair movement is focused on encouraging women with African ancestry" to embrace their kinky and curly hair textures. The movement is led and represented by black women.
"It's a topic that's not discussed enough and there's a lot of hesitation when it comes to having a space just for black hair," Lola Adeosun, co-president of ASO and CAS senior, said. "It's not something portrayed in media and the representation of greater society, so I think it's important to have a space like this where people can come together as a community."
Among the topics discussed were hair types, finding out your porosity level, beard care for men, hair textures and hair politics within the black community. Students talked about what hair textures and types are seen as being more beautiful or acceptable within the black community.
Corina Morton, a first-year graduate student in the Frederick S. Pardee School of Global Studies explained that she attended the event because she didn't know much about taking care of her hair, which is in dreadlocks. She thought coming to this event would be a good opportunity to learn about hair care.
"In society, we're always seeing this image of one type of hair style which might necessarily not encompass black hair. We need to learn about what our hair is about and learn how to take care of it because if we don't take care of it nobody else will," she said.
Aria Armstrong, a CAS sophomore, said she thought the event was a great way for people who aren't comfortable with their natural hair to find other people who are more experienced and knowledgeable within the community.
"I've been natural for about five years now, and I think it's a really important topic. It's all about empowerment, accepting yourself the way you are and the way your hair grows out of your head," Armstrong said. "There's a lot of diversity in black hair and a lot of hair politics that are interesting to discuss."
ASO and Brothers United partnered with Nastahja's Hair Bar, a natural hair salon located in Jamaica Plain, to give a demonstration and share information about products. The stylist gave a quick tutorial on how to do a two-strand twist out on natural hair, a popular style that provides definition and elongation.
During the event, students were invited to create their own hair products with shea butter and essential oils. They could make the decision to add castor oil, lavender oil, coconut oil, jojoba oil and more to their product.
"We wanted [students] to make their own products and feel really involved in the process of treating their hair and being able to add the essential oils they wanted, scents and treatments," said Adeosun. "We wanted them to have a space to be comfortable."
In addition to providing students the opportunity to create their own hair products and hair care tips, one of Amusa's goals in facilitating "Know Your Hair, Love Your Hair" was to build a community where resources could be shared. Now a senior, Amusa explained how difficult it was to take care of her hair when she first came to Boston as a freshman.
"There weren't people telling me where I could get my hair done, where I can get my braids done or who I could connect with," Amusa said. "Teaching about natural hair is important because not only does it build community, it also lets people know that little thing that makes school feel a bit like home."