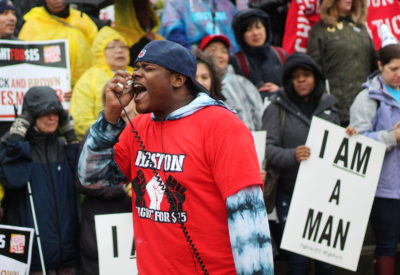 Raise Up Massachusetts — a coalition composed of labor, community and religious organizations — submitted two initiative petitions on Tuesday to the state legislature, calling for paid family and medical leave and a $15 minimum wage increase, to be put on the 2018 ballot.
In order for a question to qualify for next year's ballot, approximately 65,000 signatures have to collected for the proposed law, Andrew Farnitano, a spokesperson for Raise Up Massachusetts, said. Between the two issues the group is advocating for, over 274,000 names were gathered — far surpassing the state's requirement, according to an email from the group.
Over the next several months, the State legislature has the ability to vote on these initiatives before the ballot is sent out. If the petition does not make it to the floor, or the outcome is unsatisfactory to the organizers, Raise Up Massachusetts will then have the option to organize a smaller round of signature collections to officially place the initiative on the 2018 ballot, according to an email from the group.
Farnitano said one of organization's main focuses — paid family and medical leave — includes everything from parents taking time off work following the birth of a child to dealing with a serious medical condition like cancer.
"If they are making just enough money to get by when things are going normal, if an emergency hits them and their family, then they are at risk of not being able to pay the bills," Farnitano said. "We hear from … women [who] have given birth and have to go back to work the next week because they can't afford to go that long without their wages."
The Fight for $15 campaign is part of Raise Up Massachusetts' primary goal to build an economy suitable for all, which is a considerable challenge at present, Farnitano said.
"Too many people work a full-time job, work two or three jobs … and they still can't make enough to pay the bills, put food on the table and much less get ahead and pay for college, invest in themselves," Farnitano said.
Together, the two policies are vital to pass, Farnitano said, as they enable everyday citizens to support their families, while dually working to improve the local economy.
Vanessa Snow, council organizer for the Greater Boston Labor Council, said, like Raise Up Massachusetts, the organization is in favor of a $15 minimum wage, in addition to advocating for paid family leave, as a result of the benefits both policies offer to residents.
"One way to fight income inequality is by paying low wage [workers] something closer to a living wage, so that they can afford to live in the city," Snow said. "Paid family leave … is really important, especially for women or other parents that are primary care providers. That is oftentimes seen as a barrier to employment."
Based on the success of similar campaigns to increase benefits for workers in a number of states during the 2016 presidential election, including several successful measures to raise minimum wage, Snow said she is confident the proposed laws will pass in Massachusetts.
Several Boston residents said they were in support of both measures, and expressed hope that an increase in minimum wage and paid family and medical leave are passed by voters.
Rashaun Martin, 39, of East Boston, said he has been a proponent of Raise Up Massachusetts' work for a while now, adding that their current endeavors are commendable.
"It's productive because you have to have people at a certain minimum wage in order to obviously afford to live in the city," Martin said. "Boston is committed [to] providing affordable housing … [but] people still have to make enough money in order to afford the housing. You can't have one without the other."
Kerry Mulvaney, 49, of the North End, said she is fully behind any initiative that serves to assist local families.
"It's so important that we raise the minimum wage," Mulvaney said. "There are so many people in Boston that are struggling to provide for their families on such a low salary, not to mention, how high the housing costs are here."
Serena Entezary, 24, of Brighton, said she is infuriated by the number of people struggling to get by in the Boston, and questioned why more isn't being done to help them.
"It is ridiculous to me that people are debating this because there are so many countries that are doing this anyways," Entezary said. "We are just so far behind and it bothers me immensely that we are in this place where people … are struggling to just do things that make us people."
Hannah Schoenbaum contributed to the reporting of this article.