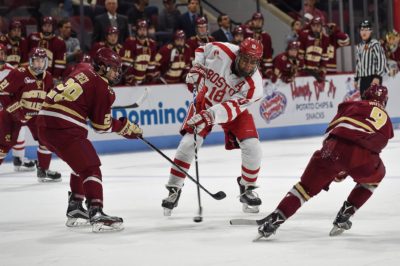 The Boston University men's hockey team came out of its home-and-home series against then-No. 15 Boston College with a split after taking home a 7-4 win against the Eagles (9-6-2, 9-2 Hockey East) Friday night and seeing a 4-1 loss at Agganis Arena the following evening. If this chain of events seems familiar, it is.
The Terriers (7-9-1, 5-5-1 Hockey East) have not won back-to-back games on their 2017-18 schedule since their home opener against Union College on Sept. 30 and matchup against Quinnipiac University the following weekend on Oct. 8.
BU has not been able to sweep any of its opponents in its two-game series while being swept by Minnesota State University and Northeastern University. The closest the Terriers have gotten to grabbing a full four points were against the University of Connecticut where they emerged with three.
These inconsistencies in BU's play has lead to a 7-9-1 record and staying outside of the top 20 in USCHO.com's Division I men's poll for the second week in a row.
However, the Terriers still have two more Hockey East games and four points they could collect before 2017 comes to a close as they face off against the University of Massachusetts Lowell this weekend.
"Unfortunately for us, we'll play three or four minutes of really good hockey and then our mistake is so catastrophic it's in the net and it just seems like the goals we give up are too easy," BU head coach David Quinn said.
Despite still looking for a sweep, the Terriers sit tied at No. 4 in the conference with UConn (7-11-2, 5-7-1 Hockey East), each team with 11 points. Northeastern (9-5-1, 7-3 Hockey East) and Providence College sit in second with 14 points and third place respectively with 13 points while BC holds a relatively comfortable No. 1 spot with 18 points.
The River Hawks (8-7, 5-5 Hockey East), a team that was one goal away from the Frozen Four and won the Hockey East championship for the third time last season, are currently No. 6 in the conference after getting off to a poor start in conference play.
Lowell has played the University of New Hampshire and Northeastern three times already this season and was swept early on in its two series, but came out with wins against both teams in the final contest.
The River Hawks recently swept UConn, which pushed its win streak to four games, but the streak was put to an end after a 3-2 overtime loss to Bentley University on Tuesday.
After last season, Lowell lost four of its top six point producers; three of the seniors graduated and forward C.J. Smith departed early to play in the NHL for the Buffalo Sabres.
While former senior forward Joe Gambardella and Smith each put up more than 50 points for the team, sophomore forward Ryan Lohin had the sixth highest points among the predominantly upperclassmen-heavy squad.
Lohin currently leads the River Hawks with 14 points alongside sophomore forward Kenny Hausinger who has earned 12 points. Lohin leads in assists with nine on the season, but is tied for most goals on the team at five with Hausinger and senior forward John Edwardh.
These offensive players will provide a challenge to BU's blue line and sophomore goaltender Jake Oettinger who has a .905 goal save percentage and 2.89 goals against average over 15 games.
"We're scoring more goals for sure over the last few weeks," Quinn said. "We've just got to take that one next step to play winning hockey and when we do it, we don't do it consistently enough and we're close to doing it. We've got to do it for 60 minutes."
Five of the Terriers' top point leaders — sophomore forward Patrick Harper, junior forward Bobo Carpenter, sophomore defenseman Chad Krys and freshman forwards Brady Tkachuk and Shane Bowers — have 12 or more points, but BU and Lowell are both averaging 2.9 goals per game.
A player to look out for on the Terriers' side will be freshman forward Logan Cockerill. In the past five games, the Brighton, Michigan native has accumulated seven points.
Cockerill and other players on the BU's squad will be necessary to get through the River Hawks' junior goaltender Christoffer Hernberg who posts a .939 goal save percentage and 1.64 goals against average through 12 games.
"Playing at a lower level last year, it's hard to make the jump, but I also have to give credit to my two line mates, Shane and Patrick there," Cockerill said. "They've been really helping me out there and getting me adjusted."
On the special teams side of things, BU holds an edge in power play with a 20.5 percent conversion rate while Lowell is only capitalizing on 15.7 percent of its power play opportunities.
Although, the River Hawks have killed 82.5 percent of their penalties while the Terriers have a 76.8 percent success rate on their penalty kill.
"Consistency is definitely something we need to get into our game a little bit more and obviously you can't sweep anyone unless you win the first game so that's our focus right now is just winning Friday," Oettinger said. "I know everyone's in the right mindset right now and it should be a good one tomorrow."