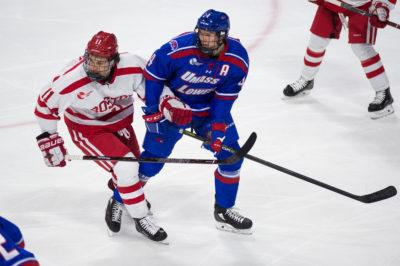 The Boston University men's hockey team finished the finale of its Hockey East home-and-home series against the University of Massachusetts Lowell Saturday night at Agganis Arena.
Unlike the previous evening, the Terriers (8-10-1, 6-6-1 Hockey East) held onto their lead over the River Hawks (9-8, 6-6 Hockey East) for a 9-3 win, with help from three players — sophomore forwards Patrick Curry and Gabriel Chabot and sophomore defenseman Dante Fabbro — who were absent in the first matchup.
"I feel really good for our players because I know obviously the record isn't certainly what we all want it to be, but when the dust settles people are going to evaluate this season by the season, not the half," BU head coach David Quinn said.
Friday night, Fabbro wasn't on the ice for the first time all season due to a lower-body injury. The defenseman returned for the Terriers' final game of 2017 and picked up an assist on sophomore forward Patrick Harper's power-goal, which BU up 3-0 at 14:45 in the first period.
The Terriers' power play, which went one-for-four the previous night, struggled without Fabbro as they attempted to tie up the game at Tsongas Center.
However in the second contest, Fabbro passed the puck to Harper from near the blue line and the forward got the puck past Lowell sophomore goaltender Tyler Wall just 11 seconds into BU's second power play opportunity of the night.
Fabbro also put up three shots and two blocks on night, on top of helping the defense minimize the River Hawks to 18 shots.
"I thought our D corps was outstanding tonight," Quinn said. "Last night, we struggled and tonight we got out of our end. We got back for pucks, we made good decisions, we didn't mess around with it."
Curry, who was not in last night's lineup, added offensive depth for the Terriers on left wing and helped maintain their 3-1 lead.
The sophomore put up three shots overall and less than two minutes into the second period, the forward's shot rang off the crossbar. While it seemed like a run-of-the-mill missed shot, the play was put under review by game officials.
It was eventually deemed a null goal, but Curry got on the scoresheet when he recorded the primary assist on sophomore defenseman Chad Krys' goal at 8:04 in the same period.
Freshman forward Shane Bowers came down the ice and quickly passed it to Curry. He fed it to Krys who shot it from the right faceoff circle, extending BU's lead to 4-1.
"Pat's got good skills and when he plays at a pace and with grit, he's a good player," Quinn said. "It's nice to be able to put those two types of players [like Curry and Chabot] in the lineup on a night like tonight."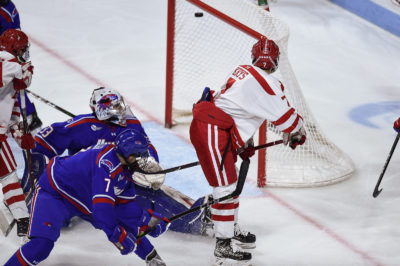 While Chabot may not gain a lot of attention as a left wing on the Terriers' fourth line and didn't put up any points, he ended the night with a plus-minus rating of +2 after being on the ice for goals from freshmen defensemen Cam Crotty and Kasper Kotkansalo.
The sophomore has only played in six games this season, but on Saturday added physicality to his line that consisted of senior forwards Nikolas Olsson and Chase Phelps.
"Chabot came out tonight and he was like a wrecking ball out there," junior forward Jordan Greenway said. "He gets in on the forecheck, stops the puck up, creates space for his linemates."
Overall, Quinn said he thought Chabot and the rest of his line played well in addition to many of BU's other lines that have recently found success.
"I think Phelps and Chabot and Olson played well tonight," Quinn said. "That line played well against BC as well so I think we're starting to find some line combinations."