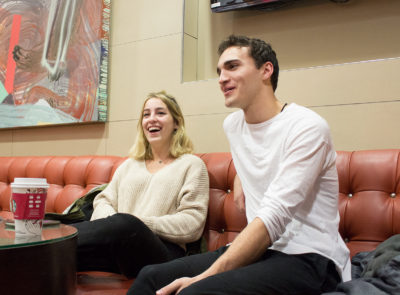 It all started with a SoundCloud message.
In April, solo vocalist Izzy Raye Weinberg sent producer Kian McGee (known artistically as KEYON) a tentative track. Though both Weinberg and McGee are students at Boston University — Weinberg is a junior in the College of Communication and he, a senior in the School of Hospitality Administration — their contact through the social music platform was a coincidence of instrumental proportions.
It was an instant musical connection. McGee, drawn to Weinberg's magnetic voice, set to work forging a soundscape to match. The two spent the summer recording and producing two singles — "Keeping My Distance" and "Seeing Your Face" — without ever having met in person.
"I got this vibe from her that she was so determined," McGee said. "That's something that's really hard to find with local artists — someone who's equally as driven and has the same exact goals."
Now, Weinberg and McGee combine as FOOL, a groovy, ambient R&B duo with two singles and a freshly released premier EP, "Happy / Sad."
Weinberg, who had her first solo in a theater production at nine years old and began writing her own music at 12, said that she has always loved writing melodies. Yet after giving up piano and guitar after a few weeks, Weinberg quickly realized that she didn't know how to write the music to accompany her vocals.
McGee was the answer.
In high school, McGee said he had virtually no social life, opting instead to spend six hours a day in his basement "intensely training" in classical music and theory. After performing at his English teacher's wedding, McGee said he started up a wedding band business that grew wildly successful.
Despite his instrumental and improvisational skills, McGee said he lacked the creativity to write lyrics.
Combined, the two musicians complement each other flawlessly. While Weinberg supplies the vocals, McGee creates the music.
"She comes from a world of precision, and I come from a world of accidents," McGee said. "We come together and make the most unique combination ever."
McGee said Weinberg trusts him when it comes to improvising with their music, and he returns the same trust to her.
"Once I get her vocals, I'm like, 'Alright! Let's f***ing go!'" McGee said of the duo's creative process. "She lets me improvise — stuff that comes from my roots."
Likewise, the two musicians draw inspiration from a similar fleet of artists — both Weinberg and McGee professed to adoring Ariana Grande's voice, the music production of SZA and Frank Ocean, and the "jazzy type beats" of rap artists like J. Cole.
FOOL's most recent project, "Happy / Sad," is an EP with four songs the two have worked on since converging this semester at BU. According to Weinberg, the album, which is named after their favorite track, captures what they want their music to sound like. Her goal as the songwriter is to make music that's "relatable."
Weinberg noted that the album title is misleading — from start to finish, the tone of the tracks evolves from sad to happy.
"[The album is] a linear progression of what we were feeling at the time," McGee said. "We have a lot of attitude."
Their attitude is clear in the song lyrics, which McGee said are an "exact depiction" of what Weinberg went through in her personal life this year.
Emma Howard, a fan of FOOL and a junior studying computer engineering in BU's College of Engineering, said that she enjoyed FOOL's first two singles, but that their new EP, "Happy / Sad," is an extraordinary demonstration of the band's "evolution" as artists.
"They're developing a really different sound that combines Izzy's unique voice timbre and Kian's diverse musical background," Howard said. "They've really gotten to know each other musically."
Both artists have performing experience — Weinberg recently held a leading role in BU On Broadway's "Cabaret," but she said she never expected to feel as nervous as she did performing as part of FOOL.
"[Performing live] is actually harder than doing [theater]. When I'm in a show and being somebody else, I don't have to worry if people actually like me," Weinberg said. "But when you get up there and you're singing your own lyrics and you have to be you — people might hate [it]!"
Fortunately, performing as a duo has helped them both loosen up tremendously.
"We're just goofy and really dumb sometimes," McGee said with a laugh. "But we're also emotional and vulnerable and passionate."
The duo, who have grown close as both artists and friends this year, said that they are eager to continue making music as FOOL.
"You can tell that they really love what they're doing," Howard said. "They're full of energy."