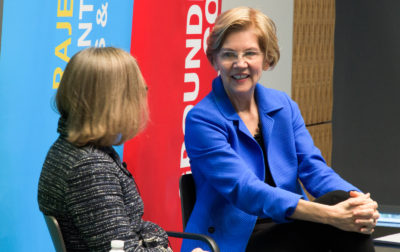 U.S. Sen. Elizabeth Warren lauded Boston University as an institution that "honors science and truth and fact," at an appearance on campus Monday afternoon.
BU invited Warren for a conversation about public health issues affecting the Massachusetts community in the context of the current presidential administration.
More than 80 students gathered at the recently opened Rajen Kilachand Center for Integrated Life Sciences and Engineering for the talk Monday afternoon, moderated by College of Arts and Sciences Dean Ann Cudd.
"This is such an extraordinary opportunity to be here at BU," Warren said.
Before welcoming Warren to the stage, BU President Robert Brown said the discussion is a testament to the purpose of the CILSE building, which houses research labs and facilities "to understand human health and to find cures for diseases and conditions that plague us."
Cudd began the conversation by asking Warren about her goals to improve public health across the country. Warren said her most immediate goals are to improve access to public health and lowering prescription drug prices, particularly in light of a likely merger between pharmaceutical giant CVS Health and insurance company Aetna.
"Our best chance to deal with the long term rising costs of health care is innovation," Warren said during the hour-long talk. "It's what we can do that keep people out of the hospitals — it's what we can do earlier to make our babies healthier on so that they don't consume millions of dollars of health care."
Warren said a lack of support for research organizations such as the National Institutes of Health has dangerous consequences that can hinder long-term progress in public health.
"Real innovation in this country comes from the researchers that swing hard," Warren said. "My view on medical research is that we have to be willing to take those risks."
Warren addressed the escalating opioid abuse crisis that has devastated communities across Massachusetts. Opioid addictions start with pills legally prescribed by a doctor, Warren said.
The first solution to the epidemic, Warren said, is prevention, meaning "getting drugs out of circulation."  Her second solution to alleviate the problem is treatment.
"We should be putting more money into the NIH for alternative pain treatment, treatments that do not require opioids," Warren said, "and we should be putting money into how we treat people who are addicted to opioids."
Following her conversation with Cudd, Warren answered questions from students in the audience, and she called upon them to inspire change in the public health sector.
"How can you help? Speak out a lot and vigorously," Warren told the audience.
BU students who attended the talk said it inspired a greater understanding on the importance of public health.
Michelle Njoroge, a sophomore studying neuroscience in CAS, said she found the segment on the opioid epidemic particularly interesting and relevant to Boston.
"Public health should be a passion for everyone because it affects everyone in our communities," Njoroge said. "You may not think about it, but one person's health can affect the entire community's health."
CAS senior Paulina Prasad said she found the conversation inspiring, despite her limited knowledge about the public health sector.
Prasad also said a segment on the harmful consequences of antibiotics consumed by cattle resonated with her.
"I feel like a lot of people don't really think of meat and the meat industry and pesticides that we put on vegetables as being a public health issue, and that really struck me," Prasad said. "I thought it was really awesome that she mentioned that, because I feel like it's totally left out of most conversations."
Gavin Fynbo, a junior in CAS, said he enjoyed seeing Warren speak in person on public health issues, especially at a large academic institution like BU.
"BU is a research institution and a big part of what we do here has to do with public health, so it's important," Fynbo said, "and it's also important to everybody in the community because no one person can ever escape health issues."
Isabel Owens contributed to the reporting of this article.