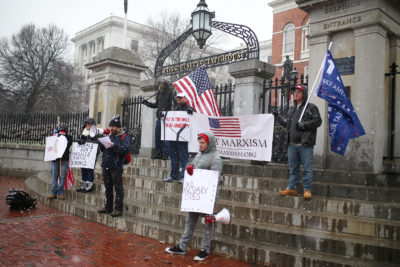 The organizers of the controversial Free Speech Rally, which drew a crowd of over 40,000 counter protesters in August, and subsequent Rally for the Republic held a demonstration against sanctuary cities and illegal immigration Saturday morning at the Massachusetts State House.
Around 10 members of the free speech group, Resist Marxism, stood in the snow delivering prepared speeches, shouting chants such as "No Antifa, no [Democratic Socialists of America], no commie USA," through bullhorns at passersby, and raising signs reading "Illegals aren't immigrants, they're criminals," and "Yes to the wall, no on amnesty."
Matthias Thorpe, an organizer for Resist Marxism, told The Daily Free Press the overarching goal of the group's work is to protect and encourage free speech.
"The main objective is to try to support the constitution, because the constitution says that we have free speech and its free speech for all," Thorpe said. "Even though you may not like opinions of those who are speaking, doesn't mean that you can commit violence towards them and doesn't mean that you can suppress their speech."
Thorpe is no stranger to the violence that comes with this controversy. A recent confrontation with residents at a talk given by Mark Bray, author of "Antifa: The Anti-Fascist Handbook," left him with severe bruising on his cheekbones, blood shot eyes and three fractures in the right side of his face.
Despite this pushback from the public, Thorpe joined other Resist Marxism members in speaking at Saturday's rally. Denouncing the validity of sanctuary cities, Thorpe said during the rally that laws legitimizing illegal immigration put U.S. citizens in danger.  
"It is hard to know that innocent people are being raped and murdered by people who are not even supposed to be in this country," Thorpe said. "It is hard to ignore the fact that sanctuary cities do nothing to protect American citizens and actually prevent [U.S. Immigration and Customs Enforcement] from removing criminals from this country. You don't have to support President Trump or the wall in order to agree that we require sensible immigration control."
Michael Moura, spokesperson for Resist Marxism, took the megaphone next, saying illegal immigrants are an unnecessary burden and danger to U.S. citizens.  
"I want everyone here to ask themselves, why American citizens need to bear the increasing cost of violence, victimization, and footing the bill to house illegals who have no business being here," Moura said. "To our government, both Democrats and Republicans, it's time to make clear whether you're on the side of lawbreaking foreigners or the American people."
In his speech, Moura paid tribute to Kate Steinle, a 32-year-old woman who was fatally shot in San Francisco after an undocumented immigrant accidentally — courts have ruled — fired into a crowd at Pier 14.
Moura said that Steinle's death was a tragedy, and the court's decision an injustice perpetuated by poor border control.
"The sooner we act the sooner we can keep immigration under control, and prevent tragedies like the death of Kate," he said. "Without action things like this will only continue to happen. I grieve and offer the Steinle my deepest condolences for their loss, and this miscarriage of justice that unfortunately is too common in our legal system."
One Boston resident, Joanne Meegan, 48, of Roslindale, said she came out in the inclement weather to support the group as she agrees stricter immigration control would benefit residents in the area.
"I believe in the cause of immigration laws, I think immigration laws are very reasonable, they keep law abiding American citizens safe," Meegan said. "Any of us could have been Kate Steinle. It's not just really about justice for her, it's about justice for all of us."
Meegan said she thinks sanctuary cities are a bad idea anywhere, and that local governments should be focused on protecting their own residents.
"I heard somebody say 'Kate Steinle should have had a sanctuary,' and I thought that was a really great point," Meegan said. "Americans should have a sanctuary where we can be safe from people who have no business being here."