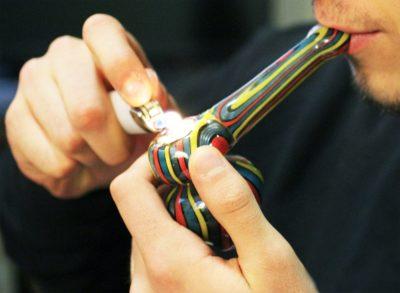 A subcommittee of the Cannabis Advisory Board submitted a recommendation to the Cannabis Control Commission for the creation of businesses where marijuana could be bought and smoked on-site in Massachusetts at their joint public commission meeting Tuesday.
The Cannabis Industry Subcommittee's proposal of the creation of marijuana bars, on the premise of social consumption of cannabis, will be reviewed by the CCC, and incorporated into a draft of regulations and voted on by members of the commission in the next week, Dot Joyce, a temporary spokesperson for the commission, said.
The CCC will have until March 15 to finalize regulations for the licensing of the marijuana businesses, Joyce said. Retail marijuana sales are set to begin in the Commonwealth in July of 2018, following a six-month delay in rollout, The Daily Free Press reported on Jan. 26.
Jim Borghesani, Massachusetts spokesperson for the Marijuana Policy Project, said recreational marijuana should be sold in a similar method and environment as alcohol.
"If you look at the regulation regarding alcohol, there are certainly many places that consumers can go and purchase and consume alcohol [at] any bar, any restaurant," Borghesani said. "We really see no reason why cannabis shouldn't be if not as many … cannabis consumers have that same opportunity to enjoy the substance of their choice in a safe setting.
If legislation regarding on-site consumption is approved by the CCC, whether or not such businesses are established in a municipality is up to local voters. Borghesani said he is confident the majority of Massachusetts residents will vote in favor of these on premise distributors.
"Eventually, as cannabis gets normalized in the country, I think we're going to see this movement towards consumption aspects, just because consumers would like to have that option," he said.  
Through the establishment of these businesses, Borghesani said the state would reap benefits on a financial level as well.
"Cannabis is taxed so much more extensively than alcohol that any sale of cannabis is going to be a revenue producer for the state and for the locality of the facility," Borghesani said. "It becomes another part of a very substantial revenue generating business."
Kamani Jefferson, president of the Massachusetts Recreational Consumer Council, said although on-site consumption for marijuana has been successfully implemented in cities abroad, such as Amsterdam, this type of business has yet to be established on the state level anywhere in the United States.
"This hasn't been really successfully implemented in other legal cannabis states but we hope to be one of the first ones to do it," Jefferson said.
Jefferson explained on-site consumption facilities would be licensed as dispensaries and would have to follow protocols set by the commission.
Boston residents expressed mixed opinions about the presence of on-site consumption facilities for cannabis.
Andrew Evangelista, 27, of Brighton, said after experiencing on-site cannabis consumption in Amsterdam, he thinks it would work well in Boston.
"It would work really well in Boston [because] it kind of has a similar mindset," Evangelista said. "People can collectively get together in one place and share and smoke weed together and have a good time."
Barry Brodsky, 69, of Brighton, said he is worried the presence of these cannabis bars will increase the residents dependency to the substance.
"My concern isn't about whether [on-site consumption] is legal or illegal, it's availability," Brodsky said. "It possesses the same dangers as alcohol for people who are susceptible to addiction."
Denise Gately, 69, of Kenmore, said she does not have any concerns about the establishment of these businesses but worries about their location.
"No one wants them in their neighborhood," Gately said. "That's the problem, finding the correct neighborhood."