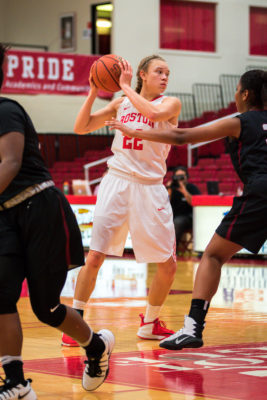 The Boston University women's basketball team is off to a solid start this season. The Terriers (5-3) have won three of their past four games, but saw a three-game win streak snap Saturday by Marist University.
Terriers lead Patriot League in blocked shots
Through the first eight games, BU has been strong inside, registering 43 to lead the Patriot League, 11 of those 43 blocks came in one game, a slim 61-57 victory over rivals Boston College.
Senior center Sophie Beaudry is the runaway leader in blocks for the Terriers. The 6-foot-5-inch Beaudry hails from Chambly Quebec, Canada. She has 18 blocks on the season— reaching four blocks three times this season.
In addition, Beaudry has had at least one block in every game apart from one this season except for a loss at Harvard.
Senior guard Corrine Williams, junior forward Naiyah Thompson, and senior forward Kara Sheftic have six blocks apiece. All four players are in the top 10 in blocks per game in the Patriot League, with Beaudry at second on the list.
No other Terrier has more than two.
Coach Katy Steding was very complimentary of not just Beaudry, but all of her players who block shots.
"[Beaudry] is a terrific asset to have and she is a very unselfish as a teammate," Steding said. "She takes up so much space with her length, she changes a lot of opponent's shots, and even if they can still get their shot off, she makes them alter their shot."
"We have other players who do a good job of blocking shots," she said. "We have a lot of people who like to get their licks in on that."
Freshman Katie Nelson leads the Terriers from behind the arc
BU leads the Patriot League in three point-field goal percentage, shooting nearly 38 percent from long distance.
Freshman guard Katie Nelson has done most of the damage for the Terriers from downtown. She has connected on 24 of 52 three-point shots, good for 46 percent.
While Thompson leads the Terriers in three-point percentage, she's only taken six but connected on four from down town.
Nelson leads BU in three-point shots made — she is the only Terrier to connect on more than eight threes.
Nelson made a season high five threes in the win over Boston College and the team made a season high nine in a win over the University of Delaware.
Steding knows how valuable a three-pointer can be, and said she's happy to have Nelson and others who can connect from downtown.
"The three-point shot is such a big part of the game," Steding said. "Having someone like Katy who does a great job from there is huge for us, but we have a lot of three-point shooters on the team this year that have come along nicely."
Terriers are not selfish with the ball
The Terriers are also successful in generating assists. They are second in the Patriot League, averaging 14.63 per game.
Nelson leads the way, averaging close to five assists a game. Her season high came in her first game with the Terriers, when she dished out eight assists against Northeastern (3-5).
BU registered its most assists as a team against the Bryant University, with 21.
Nelson had seven assists against Delaware (6-4) and six against Bryant (1-9) and the University of Vermont.
Steding and her team have always had a goal of having more than half of their successful field goals being assisted, and she said she's happy to see her team fulfilling that as much as they can.
"We want to move the ball and we want to share the ball," Steding said. "It is part of our culture. It is a big part of what we emphasize and I am glad it is playing itself out."