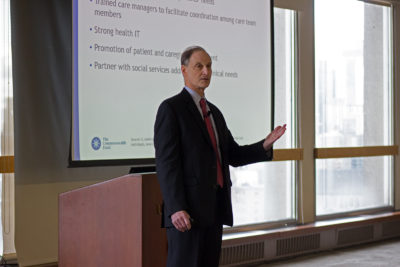 Former Harvard Medical School professor of medicine David Blumenthal spoke about the healthcare challenges faced by high-cost and high-need medical patients on Friday at the Boston University School of Medicine.
Blumenthal serves as president of The Commonwealth Fund, a private foundation with a mission of promoting a high-quality healthcare system that grants people greater access to more efficient and better-quality health care, according to its website.
The Commonwealth Fund defines high-cost patients as "those who account for a high proportion of healthcare spending," according to its website, and high-need patients as individuals "who have three or more chronic diseases and a functional limitation in their ability to care for themselves or perform routine daily tasks."
High-cost, high-need patients, which make up five percent of the U.S. population, account for 49 percent of healthcare spending, Blumenthal told the audience of about 30 students and faculty at the lecture.
"High-cost, high-need patients are all around us," Blumenthal said. "They are not just in your patient population. They are our grandparents, our parents, our aunts and uncles, sometimes our sisters and brothers, and sometimes even our children."
Blumenthal said he thinks the current healthcare system underserves disadvantaged populations by failing to create effective systems to oversee and coordinate care. And when healthcare fails, Blumenthal said, high-cost, high-need patients suffer.
"They are particularly vulnerable to the idiosyncrasies of our healthcare system because they use it so much, so they are much more likely to suffer quality and safety problems," Blumenthal said.
Blumenthal said after the lecture that medical professionals need to learn how to help patients despite the flaws in healthcare organization.
"They are going to be practicing medicine in a system that is way too expensive and not sufficiently protective of health," Blumenthal said. "Learning about how to allocate resources better is really important for physicians."
Understanding the plight of underprivileged patient populations, Blumenthal said, is not just a U.S. issue.
"All around the world, developed countries are dealing with the same problem in aging and population with more chronic illness," Blumenthal said. "The need to manage those patients better is a worldwide problem for developed and, increasingly, for developing countries."
BUSM Dean Karen Antman said after the lecture that learning about such disadvantaged populations may encourage medical students to increasingly shift their focus to the patients that need the most help.
"Maybe you will change your education if you know that it is going to be important for you to be managing the sickest of the sick," Antman said. "We actually take care of a lot of the patients that he was describing — older, sicker and poor."
Several of the students and faculty who listened to Blumenthal's lecture said they believe it is important to understand how high-cost, high-need patients are affected by the healthcare system.
Briana Roberge, a first-year graduate student in the School of Public Health, said she thinks it is important to learn about disadvantaged patient populations in order to treat them effectively.
"I imagine that it is really important for [medical students] to understand this population because they service them a lot — especially in the cities," Roberge said.
BUSM professor emeritus Alan Meyers said he believes medical students must understand the challenges faced by high-cost patients in paying for care.
"As much as we would like to focus all of our attention on the clinical care or on the patient, if you're a responsible clinician, you need to know what are the barriers that your patients are going to face in accessing the care that you're recommending," Meyers said.
Esther Moberg, a research project manager in the Henry M. Goldman School of Dental Medicine, said she thinks medical students need to understand how the healthcare system will affect their own attempts to help patients.
"It is important [for students] to understand the culture they are walking into," Moberg said. "It is also important to lobby for their education system to be changed so they are able to deal with the changing healthcare system they will be walking into, which will probably be impacted in the changing cost system."