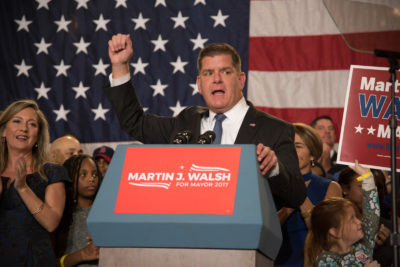 Boston Mayor Martin Walsh and the new members of the Boston City Council were sworn into office Monday morning at the Cutler Majestic Theatre at Emerson College. Walsh set forth his vision for his second mayoral term in his inaugural speech and laid out specific goals for the next four years.
The ceremony began with opening remarks from former Vice President Joe Biden and the president of Emerson College, Lee Pelton. In a testament to Walsh's character, Biden said Walsh's resonating commitment to the people of Boston is one of the reasons why he is among the best mayors Boston has had.
"[Walsh] is a man who will never ever forget why he sought this job in the first place," Biden said. "This is a man of extraordinary character at a moment when we need more character and incredible courage."
Biden compared Walsh's upbringing to his own, noting how they both grew up in working class families. He said Walsh's character and commitment is what drives his genuine style of leadership.
"I don't think there's a single person in this city that can say Marty Walsh has forgotten them or forgotten where he came from," Biden said. "He carries with him in his heart what he's been taught or what can't be learnt in a book. Do you think there is anyone in this city that believes more in giving someone a second chance? I don't. I don't think there's a single person."
Walsh's inaugural address focused largely on the new initiatives he has planned for the next four years, while also marking the accomplishments of his first mayoral term. He said it is vital to continue the successes of his first term into his second.
"In the last four years, we have dedicated ourselves, together, to Boston's progress," Walsh said. "In the city where free public education began, we expanded its reach from prekindergarten to community college. We tackled a housing shortage by building record numbers of new homes and new affordable homes. We showed a way forward in police-community relations … but we have more work to be done."
In his address, Walsh also said he believes in the importance of higher education and the scholarship opportunities offered to students by the renowned institutions in Boston. He specifically acknowledged Boston University's new scholarship program for Boston Public Schools students.
"Our young people need and deserve access to the global network of higher learning that flows through their own city," Walsh said. "I want to thank all these institutions and, in particular, Boston University, for enrolling 80 new BPS graduates this year alone."
Walsh said Boston has often buckled down to help those in need, and will continue to do so.
"At a time when the national conversation too often turned mean, we recommitted, without reservation, to feeding the hungry, housing the homeless, confronting racism and welcoming the immigrant," Walsh said. "And we always will."
Several citizens at the ceremony made clear their support of the mayor's initiatives and past progress.
Janey Frank, 70, of Roxbury, said she appreciates how Walsh seems to listen to the issues that are important to her and others in the community.
"Marty Walsh has been very accessible to me and the committee that I'm on," Frank said. "The committee that I'm fighting for in the areas of costs of living adjustment for retired teachers and municipal workers. He's been very accessible and I wanted to pay back to him by being here today."
Jim English, 60, of Dorchester, said he noticed great progress in Boston during Walsh's first term.
"I have enormous respect for him," English said. "He's done a lot of good things for the city and I just wanted to see what his program going forward is."
Theodore Landsmark, 71, of Jamaica Plain noted the significance both of the inauguration and of all the work Walsh has done for the city.
"The beginning of a second term is really important for a mayor," Landsmark said. "In the second term, you really have to deliver on promises that you've made and Mayor Walsh has initiated a number of programs, particularly around homelessness, urban regeneration, finer issues such as gentrification and improving the Boston public schools."
Landsmark said that through the inaugural address, he was hoping to understand the mayor's plans and priorities for this new term.
"I wanted to hear what he had to say as he looks forward to actually implementing a number of the plans that had been announced initially," he said.