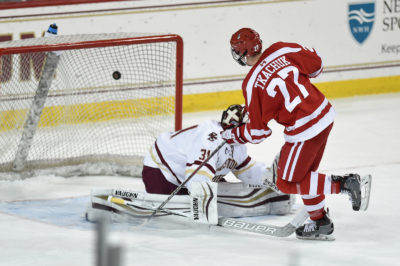 After nearly four weeks without a contest at Agganis Arena, the Boston University men's hockey team returns to action this weekend.
The Terriers (8-10-1, 6-6-1 Hockey East) will kick off 2018 by hosting the University of Maine on Saturday night to resume Hockey East play.
"We did a lot of good things in the first semester," BU head coach David Quinn said. "We have just got to avoid those back-breaking mistakes that have hurt us. We are ready to go."
Since the Terriers last took to the ice together on Dec. 9 for their 9-3 win over the University of Massachusetts Lowell, they have been busy representing their countries.
Five members of the BU squad spent the intersession sporting their national colors during the 2018 IIHF World Junior Championship in Buffalo, New York. Sophomore goaltender Jake Oettinger, sophomore forward Patrick Harper and freshman forward Brady Tkachuk were named to the U.S. team.
While sophomore defenseman Dante Fabbro represented Canada, freshman defenseman Kasper Kotkansalo became the first Terrier to be named to the Finland World Juniors group since 1994. Fabbro wore an "A" on his sweater for Canada.
"[Kotkansalo] got better as the tournament went on," Quinn said. "Early on, his minutes weren't high, but by the end of it he was playing a regular shift and killing penalties."
Tkachuk and Oettinger starred in one of USA Hockey's most memorable moments of 2017 as the team defeated Fabbro and Canada 4-3 in shootout fashion in the snow at New Era Field on Dec. 29. In front of almost 45,000 fans, Team USA fell into an early two-goal hole, but by the third period, Tkachuk's score from the right post seven minutes into the final stanza tied the game at three apiece.
Oettinger held Canada scoreless in the shootout, and it was only fitting that Tkachuk and former Terrier forward Kieffer Bellows netted tallies in the shootout to hand Team USA the win.
One day earlier, Tkachuk scored a goal in Team USA's 3-2 loss to Slovakia, and assisted on a Bellows goal in Tuesday's 4-2 win over Russia that sent the team to the semifinals of the World Juniors.
"[Tkachuk] being able to play against guys his own age certainly helps," Quinn said. "[Oettinger] played well in the game he played. Got a big win against Canada."
Senior captain and defenseman Brandon Hickey also had a packed schedule over the break, traveling to Switzerland to play in the 2017 Spengler Cup for Team Canada.
Hickey was a horse for the team, leading the group in ice time on three separate occasions while piping in two assists in four games. Canada was a perfect 4-0 in the tournament, capping it off with their 15th Spengler Cup championship.
Additionally, Team USA's olympic roster was announced Monday, and junior forward Jordan Greenway was among those who earned a selection. After scoring seven goals and 10 assists over the first few months of his third collegiate season, Greenway became one of four NCAA players named to the contingent, which will begin their quest for a medal in South Korea on Feb. 14.
For now, BU will redirect its attention to taking care of business in Hockey East.
Safe from the single-digit temperatures inside, the Black Bears (10-7-1, 4-4-1 Hockey East) will sit on the opposite bench of the Terriers for the third time this season. BU visited Maine for a pair of games in November, settling for a split.
In the first matchup, which took place at Maine's campus in Orono, Kotkansalo opened the scoring with his first career goal, but the Black Bears came back to score three consecutive goals, essentially putting the game out of reach.
Maine ended up winning 5-2, firing up the Terriers for their rematch one night later in Portland.
BU responded with a vengeance, scoring three goals each in the second and third periods to secure a dominant 7-0 win. Freshman forward Shane Bowers scored twice while Tkachuk and Greenway scored in the second period to widen the Terriers' advantage.
The Black Bears enter Saturday's matchup tied for seventh in the Hockey East conference with nine points while BU sits tied for third place with 13 points of its own. Maine brings a formidable offense to Agganis Arena, sporting the highest goals per game average (3.44) in Hockey East play.
Consequently, the fast-paced Black Bears are ninth in the conference in scoring defense, allowing 3.11 goals per contest.
"The pace of our play, playing at a pace, defending and being hard around pucks — we know if we do that, it doesn't matter who we're playing, we're going to have a chance to really be successful," Quinn said. "We don't love how we've played, and we're right in the thick of it. We are a few weekends away from being in first place."