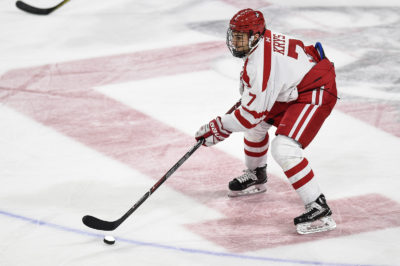 The Boston University men's hockey team entered last Saturday's contest against the University of Maine weary, with four of BU's seven starters having spent their intersession representing their countries at the 2017 IIHF World Junior Championship — and a fifth, senior defenseman and captain Brandon Hickey, was at the Spengler Cup.
The wear and tear accumulated from those tournaments showed, as the Black Bears (11-7-2, 5-4-1 Hockey East) mauled the Terriers (8-11-1, 6-7-1 Hockey East) 3-0.
BU head coach David Quinn called his decision to dress those four players against Maine "a huge mistake."
"My number one responsibility is to put us in a position to win hockey games, and I didn't do that on Saturday night," Quinn said. "I thought that I put those guys in a tough position and they didn't have a lot of energy and I thought to no fault of theirs, our team reacted to that."
The Terriers have the opportunity to redeem themselves and to recover lost ground in the Hockey East standings this weekend, as they travel to take on the University of New Hampshire Friday night before hosting No. 11 Providence College the following evening.
Following the loss to Maine, BU fell to fifth place in Hockey East with 13 points after Providence (14-7-1, 7-4-1 Hockey East) separated itself by two points with a 5-2 win over Merrimack College. The Terriers now have just two conference points in hand over the Black Bears and the University of Connecticut, despite playing four more Hockey East games than Maine.
UNH (9-9-2, 4-5-1 Hockey East) sits eighth place in the conference with nine points of its own. In their first matchup of the season against BU on Nov. 11, the Wildcats were silenced by redshirt sophomore goaltender Max Prawdzik in a 4-0 defeat.
The Andover native was perfect on the night, stopping all 29 shots he faced while his offense backed him up. Freshman forward Ty Amonte, sophomore defenseman Dante Fabbro and the junior forward tandem of Jordan Greenway and Bobo Carpenter all netted goals in the process of securing the Terriers' third conference win of the year.
Since the loss to the Terriers, UNH has fared just 3-6-1, not garnering a single victory over the span of five games since Dec. 6. Only one of those five contests came against a Hockey East foe, as the team played three Ivy League opponents, but the results were subpar nonetheless.
However, the Wildcats remain a worthy opponent. They rank first in Hockey East in penalty kill percentage, having stopped 91.3 percent of penalties from concluding in an opponent's goal during a conference matchup. UNH has a goals against average of 2.6 while BU has allowed an average of three goals per game.
"We've got to play with energy and passion and compete — and if we do that, we always have a chance to win because I think we have a talented group and we've just got to do a better job of playing more winning hockey," Quinn said. "We haven't done that consistently enough throughout the first three months of the season."
In contrast, Providence, the Terriers' opponent on Saturday, allows just 2.3 goals per game. The Friars' penalty kill rate of 90.4 percent is mere percentage points below that of UNH and their offense is more formidable, having scored 73 goals on the season compared with the Wildcats' 60 while having played just two more games.
Providence enters the weekend having won four games in a row, beating up on the same Merrimack (6-11-4, 3-7-2 Hockey East) team the Wildcats were defeated by in their most recent conference game.
In that contest, the Friars received a pair of tallies from sophomore forward Kasper Bjorkqvist, a former teammate of BU freshman defenseman Kasper Kotkansalo in Finland's Espoo Blues organization. The Pittsburgh Penguins' second-round draft pick is currently tied for sixth in Hockey East with nine goals.
Senior forward Brian Pinho garnered two assists and one goal of his own in the win, enhancing his point total to 21 on the season. The Washington Capitals prospect has nine goals of his own in addition to 12 assists, tying him for fourth place with Terrier sophomore forward Patrick Harper in Hockey East for point scoring.
Quinn noted in order to play "winning hockey," the team can still make mistakes, as long as they aren't of "catastrophic size."
"You've got to minimize your mistakes, you've got to stay out of the penalty box, you can't take four penalties in a period," Quinn said. "You look at the box score [against Maine last Saturday], BU only took four penalties, well four of them were in a fourteen minute stretch, and that doesn't give you a chance to win."
The two teams faced off twice at the beginning of the season, with each team shutting out its opponent on home ice. In a 3-0 win at Providence's Schneider Rink on Oct. 28, the Friars scored three times in the second period to send BU packing.
The Terriers sought revenge at Agganis Arena on Nov. 3 and achieved it, as sophomore defenseman Chad Krys scored twice to lead the Terriers to a resounding 2-0 win.
Quinn said Thursday's practice was the first time the team has been all together since Dec. 7.
"It really was a pre-game, day before a game, there really wasn't much we could do so [at the] end of the day, our guys got to be in the right mindset," Quinn said. "That's what it's all about."