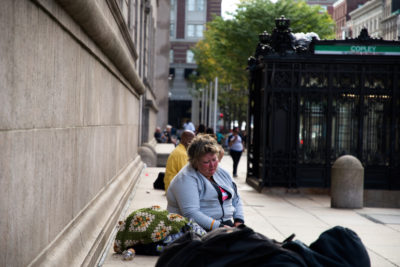 Boston Mayor Martin Walsh announced Friday his plans to revitalize the city's emergency shelter system for people affected by homelessness.
The goal of the initiative is to modernize the current system and to make it more accessible to those who need it, according to a press release from Walsh's office. The hope is to keep demand for the shelter system low by getting people to housing as soon as possible and keeping return rates low.
Walsh's current plan aims to improve upon the 2015 social program Boston's Way Home, whose mission is to end chronic homelessness in the city, according to the release. The program has already housed nearly 1,300 people formerly affected by homelessness.
The number of citizens requesting support from shelters continues to grow each year, according to the release. Boston's individual shelters now serve seven percent more people yearly than when the plan was released in June 2015.
At a public hearing on Tuesday at the St. Francis House, a Boston shelter, the mayor and several speakers, including Gov. Charlie Baker, discussed the success of previous programs and the aims of the new proposal.
"A home symbolizes a new beginning and new strength," Walsh said during the hearing. "We only succeed in our city when all of our residents succeed, and the strength of our city's character is determined by how we treat every single member of our city."
Walsh said he applauds service programs that provide employment opportunities and stable housing for those affected by homelessness.
"Ending chronic homelessness is about getting people in pathways to permanent housing, and that's what Boston is focused on," Walsh said. "Every single person in our city deserves a home and everyone deserves compassion and support."
Karen LaFrazia, president and CEO of the St. Francis House, spoke during the hearing about the necessity of programs dedicated to developing skills that could be applied in the professional world.
"What we need to be able to do is help people increase their incomes so as jobs are coming into Boston, we are preparing people to take advantage of those jobs," LaFrazia said. "There are people who are underemployed who are looking to improve their skills and their wages, so this is the demographic that this project will be targeting."
LaFrazia said she is focused on preventing the issue of homelessness altogether more than providing individuals who are already in the shelter system with housing.
"The homeless population — those who are chronically homeless — we're actually making incredible progress in getting those people housing," LaFrazia said. "We're concerned about other people falling into homelessness, because as fast as you take people off the streets, people take their place."
Other organizations dedicated to helping those affected by homelessness agree it is necessary to make shelters and resources available to those who need it.
Rev. June Cooper, the executive director of City Mission Boston, a faith-based organization focused on homelessness prevention, said certain shelters lack programs and services to assist the homeless population who stay there.
"There's a lack of programming, particularly on cold days when people have to sit there and stare at the wall," Cooper said. "There are some efforts to get people out of the shelter, but I think it's really not enough."
Cooper said some populations are more vulnerable than others — such as LGBT youth and the elderly.
"A lot of times we talk about homelessness as a fracture of relationships," Cooper said. "I could probably go to my cousin's house or stay with my family until I get myself straight, but a lot of people don't have that."
Lori Lambert, the executive director of The Bridge Fund of Massachusetts, a program dedicated to the prevention of homelessness, said families and elders are vulnerable populations due to the lack of affordable housing and the strain from an increased cost of living.
"We have to keep people from even getting to [the shelter]," Lambert said. "They're all full. They don't have a problem filling their beds every night and that just speaks volumes."
Several Boston residents said they, too, find homelessness to be a pressing concern in Boston.
Amy Long, 38, of Dorchester, said homelessness has worsened in Boston over the past several years, a problem which she said needs to be resolved.
"I read recently that homelessness has nearly doubled in [Massachusetts] over the past 10 years," Long said. "That is an awful statistic that needs to be improved, so I applaud Walsh's recent efforts."
Cynthia Foster, 61, of Brighton, said Walsh has a responsibility to the city of Boston to improve the lives of those affected by homelessness.
"Homelessness in Boston is a legitimate problem that the city needs to deal with," Foster said. "I think it's great that Walsh is improving these efforts, and I believe it's his obligation to do so for the community."
Kevin Hayes, 43, of Allston, said although homelessness is an issue Walsh has aggressively tried to improve upon in recent years, there is more that must be done.
"These efforts may go a long way in helping the community, especially the homeless with children or who are struggling with addiction," Hayes said. "I think he has done a respectable job, but he needs to do more, so this is a step in the right direction."