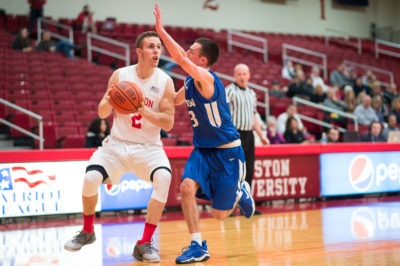 For the first time in his career, the Boston University men's basketball team's senior forward Nick Havener notched at least 20 points, totaling 21 in the Terriers' (11-9, 7-2 Patriot League) 75-72 comeback victory over Lafayette College Wednesday night in Easton, Pennsylvania.
BU trailed 7-0 immediately out of the gate, a deficit that was enhanced to 26-10 with 8:31 remaining in the first half.
However, the resilient Terriers battled back, surging on a 20-8 run to end the first half, cutting the gap to 34-30. An 18-2 run in the second half sealed the victory for the squad.
"We tried to prepare them for how hard it was going to be because they're so good offensively. They move the ball so well," BU head coach Joe Jones said. "I thought we really competed tonight. I thought we played with a lot of fight."
The Leopards (5-15, 3-6 Patriot League) had a chance to knot the score in the last seconds of the game, but were unable to do so, giving the Terriers their seventh conference win of the season.
Havener played paramount during these runs, scoring the last seven points of the first half and eight total in the final nine minutes of the contest.
Havener's previous career-high points came in November during BU's 88-74 loss to the University at Albany, SUNY, in which he netted 19 points.
The Sarasota, Florida native began the season guns blazing, averaging 12 points per game after the Terriers' first five games.
However, an injury forced him to miss three games over the turn of the new year, and his scoring average had dipped to 6.9 points per game heading into the contest against the Leopards.
The tables turned for Havener against Lafayette and the forward notched double figures in scoring for the first time since BU's 90-87 win over Bethune-Cookman University on Dec. 8.
"He was just playing with great energy. He was everywhere," Jones said. "He was pressuring those guys. He was at the rim. He scored a ton at the rim. He posted up. He got steals. He was everywhere tonight."
Sophomore forward Tyler Scanlon notched 13 points and six rebounds, classmate sophomore forward Max Mahoney netted 12 points and six rebounds while playing injured and freshman guard Javante McCoy packed the stat sheet with 13 points, eight rebounds and four assists.
Freshman forward Walter Whyte also dominated the boards, garnering eight rebounds to accompany his nine points.
The Leopards were on fire to begin the game.
Senior guard Eric Stafford began the matchup with a three-pointer before freshman guard Alex Petrie made a layup and senior forward Matt Klinewski knocked down a jumper to give Lafayette a seven-point lead less than four minutes into the game.
This shooting success quickly teetered off for the Leopards, as they finished shooting just 41 percent from the field and 10-for-25 from three-point range.
Petrie led the team with 22 points while Klinewski contributed 20 of his own. Junior forward Paulius Zalys also garnered 16 points and seven rebounds.
Lafayette withheld the momentum to begin the second half, increasing its advantage to 44-36 with 16:24 remaining after a Petrie jumper.
BU turned it around as Whyte stifled the rim with a dunk before Havener canned two free throws to slice the lead in half.
A Scanlon three-pointer with 12:40 left gave the Terriers a 48-46 lead before Mahoney put in consecutive layups to bump the Terriers' lead to 52-46.
After another Havener layup, BU had given itself a 54-46 advantage, capping its 18-2 run.
The Leopards closed the gap to 54-48 minutes later after a pair of Klinewski frees, who went a perfect 6-for-6 in free throws on the night.
The Terriers put the nail in the coffin with a rapid 7-0 run. Havener pumped in yet another layup before freshman guard Andrew Petcash put in two free throws.
Senior guard Will Goff canned a three-pointer off an assist from classmate senior guard Eric Johnson, handing his team a 61-48 advantage with 6:13 remaining.
While BU led by as many as 14 points near the end of the game, Lafayette began to gain traction.
With a 10-point score deficit for the Leopards and 41 seconds remaining, Klinewski and Petrie proved dangerous for the Terriers. Klinewski pitched in a pair of free throws while Petrie scored three three-pointers and a layup over the span of 33 seconds.
"I thought there were some things that we have to look at after this game and say 'okay these are things we have to be ready for,'" Jones said. "One is late game situations, how we handle pressure. We turned it over a few times and then how to defend when we're up. You're up 10 and you want to stay aggressive, but you don't want to foul and there were some things there."
Petrie's final three-point field goal with eight seconds remaining got his team within three, but he couldn't knock in another to knot the game and BU went home with another road win, its seventh of the season.
Last season, the Terriers had a 6-9 away record and have passed that already this season with 7-5 record on the road.
Jones noted that the record is largely due to the team's older leadership.
"It's funny, at times we haven't been good at home, but I think our older guys have been great. They're a calming influence," Jones said. "Guys like Nick and Will and EJ, they've been through this. They've been around … and our young guys have a lot of confidence and they've played a lot."