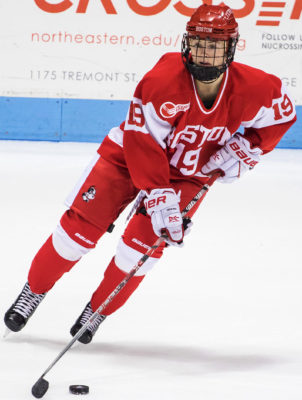 Coming off two consecutive ties, the Boston University women's hockey team heads north to begin a home-and-home series against Merrimack College Thursday night. The Terriers (8-13-6, 4-10-5 Hockey East) and Warriors (9-15-3, 4-11-2 Hockey East) will conclude the series Saturday afternoon in Boston.
The two teams faced off in the season opener on Sept. 23, with Merrimack topping BU 2-1.
Despite only one win in their previous nine games, the Terriers have been regaining key players from injury. According to BU head coach Brian Durocher, the team's return to full-strength, or close to it, is crucial.
"You start adding players, and it continues to give you a chance because it helps you out with strength, volume and numbers," Durocher said. "It looks like we're going to potentially have 17 skaters come this weekend, which will be nice."
One particular aspect of the game that has stood out as of late is the power play.
According to Durocher, the Terriers have been executing well defensively on power plays and improving on early season struggles.
"We've had a nice run, doing a good job," Durocher said. "We're thinking about it a lot less and just trusting our instincts and trusting the play, and maybe clearing a few more pucks."
Durocher noted that earlier in the season, BU was in the bottom three in the country in penalty kills. The Terriers have held their opponents to 22 goals in 106 power play opportunities this season, a 20.8 percent mark.
On the flip side, Durocher would like to see improvement on the offensive power play. BU has also scored 22 goals on 106 opportunities.
"I think we've moved the puck around reasonably well, but I don't think we're really going to the net as hard as we need to," Durocher said. "Everybody thinks it's going to be one shot, or five passes, or a beautiful back-door play, but a lot of times it's get them moving, get them on their heels and then the second, third and even fourth person go to the net and pick up loose pucks around the cage."
When it comes to special teams, Merrimack sits last in both power play and penalty kill in Hockey East. The Warriors have scored on only seven goals in 97 opportunities, while killing off 75 percent of their penalties.
With only seven games remaining in the regular season, Durocher will be looking to his strong core of senior forwards, Victoria Bach, Rebecca Leslie and Nina Rodgers, to continue their solid performances.
While Bach's success this season has been well-documented, Durocher mentioned that Leslie is not too far behind, with 40 points herself, compared to Bach's 47.
Durocher also highlighted the play of freshman forwards Nara Elia and Jesse Compher and sophomore forward Deziray De Sousa. As a line, Durocher said they have had "a nice run."
In preparation for Merrimack, Durocher mentioned goaltending as a particular strength. Junior goaltender Samantha Ridgewell has started between the pipes for 16 games this season, and currently boasts a .928 goal save percentage and 2.20 goals against average.
"It's a nice combination to have some strengths at all three positions," Durocher said, "but I think they go into every game feeling good about their goaltending."
Durocher also noted the Warriors' speed and shooting power as other strengths.
"They move pretty well as a team," Durocher said. "There are a couple kids who can really fire it. So you've got to play a thorough game against them. They don't get taken out of the game too often."
With just three games remaining before the annual Beanpot tournament, the Terriers are running low on opportunities to turn things around.
To Durocher, his team just needs to be more thorough in all aspects of the game.
"Whether it's just making one more save as a goalie, being a little more disciplined on special teams or doing the little things — line changes, staying onside, not going in the box," Durocher said. "It's amazing how quickly those things can add up. We just need to, as a collective group, [have] everybody just play that five or 10 percent more confident. It boils down to the little things that you have to be more consistent and thorough with."