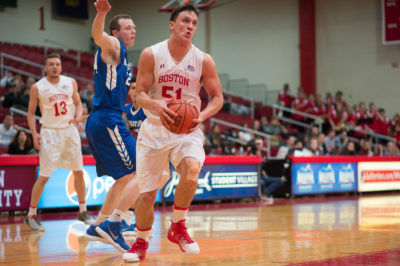 After coming off a double-digit loss to defending league champion Bucknell University Sunday afternoon, the Boston University men's basketball team will host Loyola University Maryland Wednesday night at Case Gym.
The Terriers (11-10, 7-3 Patriot League) are seeking revenge after a tight road loss to the Greyhounds (7-14, 5-5 Patriot League) earlier this month.
In its last matchup, BU kept pace with Loyola in virtually every statistic. From field goal percentage to turnovers to steals, the Terriers shared similar numbers with their opponent.
Though the disparity in points was small for BU, missteps at the free throw line were enough to explain the difference, and were compounded by relatively inefficient scoring for the Terriers.
"We [need] to play our game," BU head coach Joe Jones said. "Offensively, we need to play consistently … and play through their pressure."
The Terriers went 14-for-21 (66.7 percent) from the line, which given the amount of free throws attempted was unimpressive. Additionally, they only garnered seven team assists, which proved the ineffectiveness of their teamwork.
After a string of impressive offensive performances, scoring at least 75 points in its each of its last three games, BU is looking to even the season series with Loyola.
"I am excited to see how we play and get better," Jones said. "I have all the confidence that we're going to come out and play harder."
Although the team is handicapped by a few player injuries, most notably senior guard Cedric Hankerson, the Terriers have adjusted their play style to compensate — including increasing post play by feeding sophomore forwards Max Mahoney and Tyler Scanlon.
However, after the brutal loss against a physically larger Bucknell (15-8, 9-1 Patriot League) team, BU has identified faults in its game that need repair.
Last game, Jones was disappointed by the dearth of what he calls "fight."
While the Bison were exploiting the Terriers' poor transition defense and finding easy avenues to score, BU failed to re-energize, which aggravated its hopes of curtailing the deficit.
"I take some responsibility for that. I didn't have them ready," Jones said. "But now they have to be ready to do the dirty work."
BU will have to tighten up its defense against Loyola's senior guard Andre Walker, who leads the team with an average 17.5 points per game.
In the two teams' last meeting, Walker scored 27 points, including 4-of-8 from beyond the arc.
Nonetheless, Jones is confident in his team's resilience. He noted how the Terriers are one of the best teams in the Patriot League offensively, No. 2 in field goal percent (0.469) behind Bucknell, and the second best defensively with an average of 3.24 blocked shots per game.
This is primarily attributed to the passing effectiveness and zone defense that the team adheres to.
Still, the players and coaches are well aware of the persistence and aggressiveness of Loyola.
"They are going to battle," Jones said. "This is one of the toughest teams in the league. Last time we lost the battle because they outplayed and out-scrapped us. This time we have to be ready to compete."
In their previous matchup, BU's zone defense forced the Greyhounds to take numerous unwanted three-point shots, finishing 8-for-20 behind the arc, which it hopes to replicate.
"We just want to make sure their shots are contested," Jones said. "We don't want to [allow] three-point shots from their best players … but if the shots are contested, that's all you can really ask for."
Jones has always been a big proponent of growth and development, which according to him, are of paramount importance.  
"The times you're not successful … you have to learn from those games," Jones said. "If you're not learning, then what's the point of going through the season?"
More than anything though, the Terriers recognize the need to "fight" and "scrap." Playing with energy and effort is not just a conduit to success, but more so a sign of deference for the game, according to Jones.
"The wins are going to come if you respect the game," Jones said. "And respecting the game is playing hard."