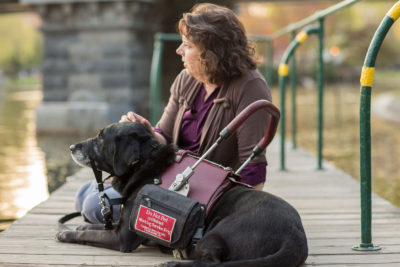 Not many people spend 24 hours a day, seven days a week with another living being. Marty Harris, however, spends all day, every day with her service dog.
Filmmaker and BU College of Communication alumna Melissa Dowler's debut feature-length documentary, "Adele and Everything After," follows the end of the working relationship between Harris, now 46, and her service dog of nine years, Adele.
"Adele hadn't simply been the family pet — Adele had been by Marty's side 24/7 for nine years, doing the job of protecting her from fainting and protecting her heart and her health," said Dowler, who directed the film. "It's such a deeper relationship, and Marty had a lot of questions about whether another dog would be able to care [for her]."
Before she started working with Adele, Harris fainted multiple times a day due to a long-time undiagnosed heart condition. Adele, and her next service dog, Hector, "save [her] life every day" by alerting Harris before she faints. Depending on where Adele or Hector nuzzles her leg, Harris knows whether she needs to stay standing, sit down or lie down.
Harris's cardiologist, James Januzzi, had never prescribed a cardiac alert service dog until Harris looked into it herself. In the more than 10 years since Harris and Adele were paired, 15 other cardiac alert dogs have been trained and assigned to human companions, according to Harris.
"Why or how these dogs are able to sense when Marty is about to faint is not really that clear, but there are some physiologic changes that occur that they can probably sense," Januzzi said.
After working with Harris for nine years, Adele's owners decided it was time for her to retire, based on her slower reaction times and lack of energy. "Adele and Everything After" was filmed from 2014 to 2016, during the transition from Adele to Hector, Harris's new service dog.
Although Harris and her husband kept Adele as a pet after she stopped working, Harris said the transition from Adele to Hector was extremely difficult because it meant leaving Adele for the first time in nine years. In the documentary, Harris says multiple times that her biggest fear going into the transition was looking down and not seeing Adele by her side.
"I realized when we were in the process of making this film that we weren't making a movie about a dog or a movie about human-dog relationships," Dowler said. "Really, it's a story about unconditional love."
Dowler was inspired to make a documentary after Harris, her neighbor, approached her about making a fundraising video so that she could afford a new service dog. Dowler said that after hearing Harris's story, she wanted to make a full-length film.
"Marty is a true hero … because she was an advocate for her own health and she didn't take no for an answer," Dowler said. "She pushed to find a solution to her problem and through that, she has helped hundreds if not thousands of people who now have dogs like Adele because of her."
Before getting Adele, Harris said she fainted multiple times a day. In the more than a decade since their partnership started, Harris has only fainted once, and it was because she ignored Adele's alert. She said Adele and Hector alert her about 20 to 30 times a day.
Filming the documentary was hard, Harris said, because the crew never knew what would happen in any given day of filming, and her emotions are now on screen for everybody to see. At the same time, she did experience the glamour of going to film festivals and visiting southern California to film.
"Going to the Long Beach Film Festival, where we won Best Documentary — it was like an Oscar moment for me, getting all dressed up and walking the red carpet" Harris said. "It was all really magical."
Dowler said making "Adele and Everything After" with her neighbor opened her eyes to the kind of unconditional love that can exist between living beings, whether they are humans or animals. Three other COM alumni worked on the film, which became available on demand on most streaming sites Tuesday.
"The relationship that Marty has with her service dog … is on a deeper level — it's a soul mate, it's a protector," Dowler said. "It's someone who's so deeply entwined with your life. It's something a little beyond the typical relationship we all have with our dogs."