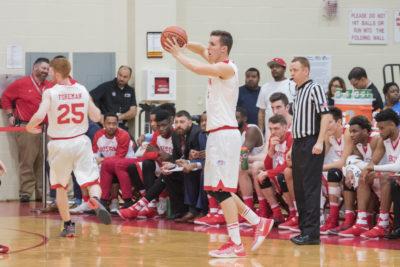 The Boston University men's basketball team had its most explosive offensive performance of the 2017-18 season the last time it faced Lehigh University, beating the Mountain Hawks' (9-13, 4-7 Patriot League) defense for a season-high 92 points in an 11-point (92-81) victory.
The Terriers (12-10, 8-3 Patriot League) will look to duplicate their performance this Saturday in Bethlehem, Pennsylvania, one day before Boston and Philadelphia battle it out on the gridiron.  
BU enters the matchup coming off a 64-55 victory over Loyola University Maryland Wednesday night. The Terriers only had two players record double figures in scoring, but the pair provided enough production to carry the squad to victory.
Sophomore forward Max Mahoney balled out to the tune of 27 points and seven rebounds, missing just two of his 14 shots from the field despite only playing the sixth-most minutes on the team.
"We moved the ball really well within the offense and the ball happened to end up in my hands a couple times right around the rim so it was pretty easy for me," Mahoney said following the game.
The scintillating performance represented the third time that Mahoney has topped 20 points in conference play thus far, boosting his scoring average to 12.7 points per game.
"Look, we had some shots we normally make, but [Mahoney] was a guy we had to ride tonight because he had it going," BU head coach Joe Jones said following the Loyola (7-15, 5-6 Patriot League) game.
The other Terrier in double figures on Wednesday was freshman forward Walter Whyte, who scored 15 points on just six field-goal attempts while grabbing seven rebounds.
Whyte was spurred by an 8-for-10 performance from the free throw stripe, scoring at least 11 points for the third time in the past five games.
BU will need these two to carry the hot hand to Lehigh Valley, as they look to find success against a Mountain Hawks team that is enduring a down season.
After going 12-6 in the Patriot League a season ago before beating the Terriers in double overtime in the semifinals of the conference tournament, Lehigh has succumbed to the loss of two-time Patriot League Player of the Year Tim Kempton.
The Mountain Hawks' 71-67 win over the College of the Holy Cross Monday night was their first victory in five games.
Now playing professionally in Israel, Kempton graduated as the third-leading scorer in program history. He also served as the anchor of the Mountain Hawks' defense down low, and without him, the team has dropped to last in the conference in scoring defense.
BU's scoring outburst last month was no fluke. In Patriot League play, the Mountain Hawks have allowed 78.8 points per game, an eye-raising mark considering the Terriers allow 71.9 points per game.
However, offensively Loyola has remained stellar. Its 76.0 points per game ranks third in the conference, dwarfing BU's average of 72.5 points per game.
Lehigh has four scorers averaging double figures, with three posting at least 11 points per night.
Junior guard Lance Tejada, who appears to be a game-time decision for Saturday after missing Monday's win, has provided a huge boost to the team in his first season after transferring from East Carolina University. He leads the team in scoring with 15.7 points per game while shooting 48.9 percent from behind the arc.
If Tejada is unable to play, expect senior guard Kahron Ross and sophomore forward Pat Andree to pick up the slack as they each average 11.7 points per game.
Ross is a vaunted passer, averaging 4.6 dimes per night, while Andree is a legitimate threat from the perimeter, shooting 42.3 percent from three-point land this season.
Andree is tied for the Lehigh all-time record for three pointers in a single game, hitting 10 in a win over Saint Francis University last season. His efforts have been paramount in Lehigh shooting 39.8 percent from three-point range as a team, the second-best mark in the conference.
It will be crucial for the Terriers to defend the three-point line with more tenacity compared to their previous contest against the Mountain Hawks, as they allowed Lehigh to make 14 shots from deep at Case Gym. Tejada and Andree were the primary culprits as they each knocked down five threes.
Another key for BU heading into the weekend will be health.
The team was without senior guard Cedric Hankerson and senior forward Nick Havener on Wednesday due to injury and the flu, respectively, and were forced to cope with having just nine healthy players.
However, according to Jones, a lack of health is not a deterrent to the team.
"I think our guys don't worry about it, they just play," Jones said following the Loyola matchup. "We never talk about it. We never say 'hey this guy's out.' We're playing, let's go [and] that's our mindset and I think it's helped us. Plus, we have good players, like there's nobody that can't play. I can play anyone on my roster and those guys, they can play…"