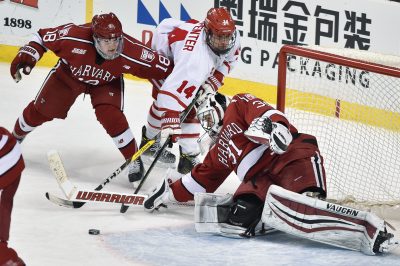 After falling in last year's Beanpot championship to Harvard University, the Boston University men's hockey team has its chance to avenge its loss on Monday in the first round of the tournament this year.
"It's funny, it's amazing how the casual sports fan knows about the Beanpot," BU head coach David Quinn said. "You walk around campus [and] people who really don't follow the sport closely, they all know whether you win or lose the Beanpot."
The Terriers (14-11-2, 10-7-2 Hockey East) come into the Monday night matchup unbeaten in their last seven games and victors in their last five matchups.
Most recently, BU knocked off its Hockey East rival, the University of Massachusetts, Friday night in Amherst 3-2. Goals were recorded by senior defenseman and captain Brandon Hickey, junior forward and assistant captain Jordan Greenway and freshman forward Shane Bowers.
Sophomore goaltender Jake Oettinger allowed his first full strength goal since the team's Jan. 20 victory over Merrimack College. The streak spanned over a course of 287 minutes of play.
"Obviously Jake Oettinger is playing really well right now," Quinn said. "We had five guys play in the World Juniors so we actually took a month off … which they don't get very often in the hockey world. So it's good to get everyone back, good to get in the swing of things and our guys are in a good place right now."
Quinn also noted that the Beanpot is not only big for the players, but also for the rest of the communities within the four schools.
"You want every player to at least experience winning it," Quinn said. "It's a feeling you can't really describe … It just means so much to not just your players, but university and the alumni and the people who work on campus."
So far this season, Quinn's Terriers split their series with Boston College, were swept by Northeastern University and have not played Harvard (10-8-4) since the Beanpot.
The Crimson are paced by junior forward Ryan Donato. The soon-to-be Olympian currently leads the country with 21 goals, just two more than Northeastern (15-7-5, 11-5-3 Hockey East) junior forward Adam Gaudette.
Donato will not be the only member of the 2018 United States Olympic Team participating in the first round of the Beanpot. Greenway will also represent Team USA in Pyeongchang, South Korea later this month.
Greenway is currently tied for first in assists and second in points on BU's roster, with 15 and 24, respectively.
Both Donato and Greenway will leave for the Olympics shortly after Monday's matchup.
"The challenge for [Harvard head coach] Teddy [Donato] and I after Monday is going to be we're both going to lose two of our top players," Quinn said. " … It's an opportunity for other guys to step into key roles and usually guys embrace that."
Quinn added that after sending players to tournaments like the World Juniors, the Spengler Cup and now the Olympics, the players return as better players for their team.
In the Beanpot championship game last season, Harvard started senior goaltender Merrick Madsen and the Terriers only forced him to make 14 saves.
This season Madsen has a 2.20 goals against average, which puts him fourth in the ECAC, and a .921 goal save percentage.
Behind Donato, forward Lewis Zerter-Gossage is second on the Crimson in points with 20.
In terms of special teams, Harvard boasts an 83.8 penalty kill percent, but has only been successful on 14.8 percent of its power play opportunities.
The Crimson are also coming off a 4-1 win over Dartmouth College and could use the boost to advance their chances of securing their second Beanpot championship in a row.
The Terriers enter the Beanpot looking for their 31st Beanpot championship and their first since 2015.
Hickey added that the BU's history does add a little bit of pressure.
"Definitely the expectations are a little bit elevated, but it adds to the environment and the fun as well," Hickey said. "There is a little bit of pressure outside the room, but it's definitely a lot of fun … You're playing for, not just for your team, you're playing for your entire school and the alumni and the whole community."
Quinn also added that this tournament can help give momentum to the teams prior to the start of the Hockey East tournament and the the NCAA tournament.
"It can also be a turning point in your season.There is nothing like experiencing success of winning a tournament in late February before the real tournaments start," Quinn said. "So much goes into the tournament it can be a springboard to having success in the next few tournaments you're going to play in, but you really want your players to experience winning it because there is nothing like it."